Hdk Fisting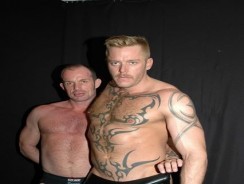 JUB Site Rating:
0 total vote





Hdk Fisting's Billing & Pricing
Hdk Fisting's primary billing processor: Paycom
$6.95 for a three day trial
$29.95 for 30 days recurring
$49.95 for 30 days non-recurring
$69.95 for 90 days recurring
VISIT Hdk Fisting NOW!


Take yourself in both hands and enter the members' area where you're in for a treat. You are left in no doubt that this is hardcore at its hardest. It's perfect fisting content here for real fans only, and it comes at you in videos and galleries that are exclusive with the added attraction of membership to the three other HDK sites for some light, though not that light, relief.

Start with the videos, there were 66 when I was in the site and fisting happens in each one. This isn't one of those sites that has a little of the promised content and lots of all kinds of other material. This is hardcore sex with ass spreading arm-work all the way. It's a fist-fest indeed. In fact that is the name of one of the series of scenes that is currently being uploaded. The bottom guy is there in his sling with his ass open and ready; his older, bearded mate lubes up his hands and is soon at work on his internal exploration. Slings and dungeons feature in many of the scenes and you're going to see here the kinds of things that go on in backrooms in leather and fetish clubs; only now you can see it with the lights on.

Viewing the movies is made easy for you with a choice of streaming and downloading and a choice of players including Flash and WMV, plus MP4s too. You are told the size of the file download in Mbs and streaming the WMV versions will give you a 360 x 288 sized embedded player running at 277kbps. You will need to sit back a bit from the screen when viewing this in full screen mode, though it doesn't lose too much quality even then.

The videos all come with screen-cap galleries with a decent set of images opening in new windows and clicking up to 640 x 480 in size. Screen caps may not be your thing but they are a good guide to scene content. And then you have 39 photo sets, some of which are very good quality screen caps, with over 100 pics per set. These, like many of the videos, were taken in real locations and are not your standard studio set ups. Good quality, great action, hot looking guys and plenty of arm burying to satisfy you. You have slideshow options here too for ease of viewing and you can rate the content. The top rated videos and photo sets are featured on the main pages so you can see the kind of thing that other members particularly liked. You also have an 'add to favourites' function and your favourites area, plus a search engine to run if you want to use one.

As for other extras, you have 120 credits given to you for a live show site which is a pretty neat bonus. And then you have the three other HDK sites to go and view. More hot guys, more hulks and bulks and bears and hardcore sex, and all the same high quality with good production standards as we expect from this great company.

Bottom Line:
Hardcore in the extreme this is a site for true followers of fisting. Expect good quality, no punches pulled and good customer services from this excellent company who consistently turn out great porn.
VISIT Hdk Fisting NOW!
VISIT Hdk Fisting NOW!