Uk Bad Lads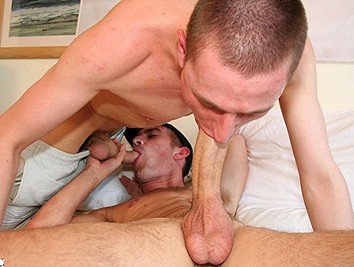 JUB Site Rating:
0 total vote





Uk Bad Lads's Billing & Pricing
Uk Bad Lads's primary billing processor: Ccbill
$19.95 for 30 days recurring subscription, automatically recurring at $17.95 every 30 days.

90 day one off membership $49.95 for 90 days one off membership, no recurring.
VISIT Uk Bad Lads NOW!
There is something very sexy about a naughty English lad, especially one with attitude and a straight appearance. And these are the kind of lads that you can find at UK Bad Lads; a top set of raw and urban youths who'd rather stick a finger up at you than suck your cock. But they don't mind sucking each others' cocks from time to time and they do it on video and on camera.
There are 62 of these straight acting, straight talking little monsters at the site where you will find only exclusive videos and image sets. There are regular updates and, like the mirror site. UK Scally Lads you get good quality and easy to access content. There are plenty of solos and some action sets and loads of information about the boys. In some cases you can even contact them through their email addresses but I somehow get the impression they are not the talkative kind. These guys prefer action. Whether it's sitting at home in their caps and trackies stroking their uncut cocks or making out with a mate on the sofa or in bed, they'd rather fuck than chat. They have attitude, you can tell that from their looks and their expressions; these are real guys, amateur but good in performance and they 'don't stand for no nonsense mate!' As the Brits would say.
And just because they are Brits doesn't mean they are going to be shy and retiring. You'll pick up on that fact when you start to view the movies. (Films, I should say as we are in Brit country now.) These are available to you as WMV files to download and as iPod compatible versions too, which play as MP4s. There is a streaming trailer for each one that starts as soon as you open an individual film's page. There you will also find the links to the downloads and to the images, which are viewable individually or as slideshows. All the technical things associated with a site are taken care of and there were no problems with viewing anything when I was in there. You'll find the WMV files area round the 200Mb mark and there are no clips or shorter sections to download, you simply have a full length, 20 minute or so, scene in the one quality that is chosen for you. That comes out just fine when viewing though and the transfer rate isn't bad so you shouldn't have to be waiting around for too long to get your mitts on the action.
The only slight bug for me was the 'join now' link on the menu. You see, the tour and the members' area are the same, except that ambers can access the full videos and other content. This means you have the same pages as the general public can see and you don't feel like you are in your own special area. There are plenty of benefits to being a member though, on top of the exclusive videos, galleries, guys and so on. There are blogs and a newsletter to subscribe to, you can leave a shout (that's a comment in other words), check on the update news and read more about who and what is behind the site. It's all open and honest and, like the lads themselves, upfront and 'in yer face'.
Bottom Line:
It's bright and brash and Brit. The boys are tough and streetwise, the design is 'urban' and there's a real sense of the British street culture coming through in the site. Add that to the horny British youths who pepper the site with sex and you've got an experience that's realistic and sexy. A great contribution to porn from a good British production company.
VISIT Uk Bad Lads NOW!
VISIT Uk Bad Lads NOW!