Boynapped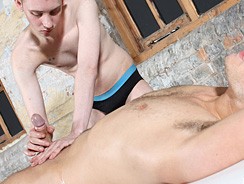 JUB Site Rating:
1 total vote





Boynapped's Billing & Pricing
Boynapped's primary billing processor: Paycom E.u
Boynapped's optional billing processor(s): Ccbill, Paycom
$24.95 for one month (recurring)
$59.95 for three months (recurring)
$99.95 for six months (non-recurring)
VISIT Boynapped NOW!
Top producers, GunzBlazing, bring you BoyNapped, a BDSM site that's getting bigger and better every time I see it. Top of your list of reasons to check out and join this site is the fact that everything here is totally exclusive, well filmed and on-niche. These guys know their fetishes, and you're not mislead into thinking that you're going to get something totally wild, only to find out that you get some rough and ready amateur porn. It's top of the range, pro-production filming and photography here with hard-hitting scenes that you're not going to find anywhere else.
There are plenty of other reasons for joining too: for example, there are three channels within the site so you can easily filter out the fetish stuff you want to see; there are loads of scenes with their streams, and there are loads of great models. You also get to access Twinks.com as part of your membership and many of the boys who get Napped are in that twink age range.
You start off with a home page that's well designed and well set out, you've got lots of interactive options, lots of searching facilities, and good samples. The update schedule is frequent and on target, and the site comes with regular news updates to keep you up to date with what's new and what's coming soon. But it is when you start to get into the movies that things really heat up.
Click to All Videos in the top menu and you come to 18 index pages holding 216 scenes dating back to 2008. Good sample images show you who is in each scene and what their particular torture or fetish is going to be: hot wax, ropes, BDSM, insertions, toys, spanking, humiliation outdoor sex, groups, blindfolds, shaving, wrapping, chains... the list goes on. It's nothing if not varied. And it's always good quality. Click the 'more' link on a video and you come to a page where you can comment, rate, add to favourites and view. There is streaming available for each scene, and these streams come with four choices of speed/resolution, for Flash and for WMV; there's also a WMV download option. You will need to be a member to watch these exclusives, they are not given away. You will need your access details to run them once downloaded, or for the WMV streams if you run them in your browser. But, with the frequent update schedule it's well worth staying a member so it's not a great issue.
You know, then, that you have a good and varied mix of fetish content, but you might want to browse by boy: that's possible too with a model index of 113 main guys. These youthful, sweet faces are varied, with all kinds of sexy things from punks to twinks, and you simply click the one who twitches your todger to get to his page of appearances. Again you can get involved and rate him, or comment on him, before going off to enjoy his video and see the accompanying gallery of images which come with slideshows.
And, apart from all the other great things you've got here, you can also join in with the exclusive live shows. You've got a huge archive of recordings and free access to some of the top, most exclusive live show performers around at Men Live. Check through your top menu to find all the links. Add in the access to Twinks.com, the generous helping of 37 third party feed sites, and the general, all round, top quality fetish entertainment, and you've got one of the best youth BDSM sites online today.
Bottom Line:
Sexy young guys get kidnapped, bound and played with in exclusive videos that you only find on BoyNapped. Coming at you from one of the top porn companies you are guaranteed quality, an excellent site and service, and a really horny fetish experience that's going to be around for a very long time.
VISIT Boynapped NOW!
VISIT Boynapped NOW!