Gay Asian Amateurs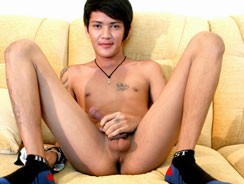 JUB Site Rating:
0 total vote





Gay Asian Amateurs's Billing & Pricing
Gay Asian Amateurs's primary billing processor: Paycom
$1.00 for one day recurring
$6.95 for three day trial recurring
$29.95 for 30 days recurring
$69.95 for 90 days recurring
$139.95 for 180 days non-recurring
VISIT Gay Asian Amateurs NOW!
Here's a nice mix of two very hot genres: Asian twinks and amateur guys. And here also is a site that is very generous with its bonuses, as well as with its exclusive content. When you buy into this paradise of porn you are actually buying into a network which is, in the mian, Asian themed.
When this site says 'Asian' it means it; there are Filipino, Chinese and Japanese boys in here, and many others from other places in the exotic East. You log in to your members' area and you are met with a wall of update news. The recent additions are featured first, with tempting pics, and then you have more images beneath the text list, and to the side where you can see what's new, what's top of the polls and what is coming soon. So right from the start you feel like you are going to be well looked after, and you are.
Click to the videos area to start your journey and you will find over 230 solo and action movies. These are available for you to stream in Flash or to download in WMV and MP4 formats, so you've got high resolution versions for home, and others that you can put on your hand held device. Runtimes are average at around 15 to 20 minutes, the quality is fine, the download speed is good too and everything technical works well and quickly here. This means you don't have to wait around to feast your eyes on the bevy of smooth, toned, and cute young Asian lads. I notice that there is also a fair amount of cum shot specials, with our youthful lads shooting their creamy white stuff over each other, it's almost reminiscent of one of your bonus sites Boykakke, where cumshots and cum fiestas are the name of the game.
But sticking with
(and possibly to)
our Gay Amateur Asians, we also find over 380 photo sets. These are separate to the screen caps that come with your videos. Taking a random sample here I find large digital shots that are clear and focused, well taken and easily accessible. You can open them individually or you can run a slideshow and watch with your hands free to do something else. You've also got the chance to take the whole set in a zip file for ease of downloading, and members are encouraged to rate and make comments on the content. And I hardly need to say that the quality here is good too, everything about this site and its network suggests quality.
So, a nice number of vids and photos, some of which may be shared with other sites in the network - but I'm not 100% on that as there is so much to see I've never had the time to view everything. Mainly because there are 22 feed sites to explore, one of which is Asian themed, and then six bonus sites, four of which are Asian themed and one of which is all Anime. And that's before I've taken up the suggestion of visiting some Asian chat, cam and dating sites.
Bottom Line:
The bottom line here is that there is a good stock of original Asian amateur porn, solos and hardcore, it's easy to view with several movie viewing options, it's good quality, the boys are youthful and smooth, sexy and full of cum, and there are many bonuses and extras to look at too. The site is updated regularly, there is good help and support and lots of information. You will have trouble finding a better Asian network than this one.
VISIT Gay Asian Amateurs NOW!
VISIT Gay Asian Amateurs NOW!