8teen Boy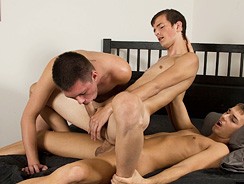 JUB Site Rating:
0 total vote





8teen Boy's Billing & Pricing
8teen Boy's primary billing processor: Ccbill
8teen Boy's optional billing processor(s): Paycom
24.95 Per Month (Recurring)
29.95 Per Month (Non Recurring)
49.95 For 3 Months (Non Recurring)
VISIT 8teen Boy NOW!


Enter the members' area and you're on page one of 18 that bring you over 170 exclusive videos featuring at least one angelic twink each. There are solo and duo scenes and some with more than two guys enjoying their hard-core sessions. The most recent movies come with a good selection of viewing choices: You can stream in Windows Media Player at two sizes, 640 x 480 @ 2.05 Mbps or 320 x 240 @ 551 kbps. This lower quality version is not quite as clear and sharp as the best quality one of course but it's still not bad. You can also stream the Quicktime versions (same sizes) and download a WMV file of the whole scene. Be aware though that the movies are DRM protected by Helix Studios who make them, you will need to enter your username and password each time you want to stream a movie and I guess even when you've downloaded one.

If photos are your thing then each movie comes with a set of pics. These are 800 x 450 captures that open individually with Flash. (Here is a tip for you, hover your mouse around the top left and right for the Previous and Next buttons to magically appear.) The images give you the standard scenarios - they follow the action and you have stills from the show, close ups and those all important moments that go by too quickly on the video version.

The guys, as I've said, are smooth and cute but they're hung too. There are some fabulous little bubble butts getting plugged by some long, youthful tools. You have blonde boys and dark haired ones, slim and skinny boys and some who are slightly more muscled too. So it is fair to say that there is a variety of twinks here, most of whom are white. If you want to find a guy by his looks then there's a neatly laid out model index. It's quite simple to use, you have nine pages of 16 boys per page each with a face and/or body shot to guide you. Simply click one who you think you might want to get to know and you'll get to his details page. You will learn his age, height, weight and be able to read a short write up. Beneath this you'll find his movie appearances and galleries - no need to jump back to the movie index as they are all there on the page making the model index an easy way to get to the hot content.

If you want to own one of these DVDs for ever you will have to buy a hard copy. But that's not as bad as it sounds. Check the main home page when you log in to find your offer of 30% discount at the DVD store. Then click to the store to find all the available titles. There were 33 when I was there, they ran for around 80 to 90 minutes and came with descriptions and links to the streaming/download options of the scenes. The episodes you have on the site come from these movies so when you buy a DVD for $49.95 (before your discount) you're actually getting five or six episodes from the site on one disc.

Bottom Line:
Hot young twinks go wild for cock and ass fun in good quality movies that you can stream, download (with DRM restrictions, hence my 4 rating) or buy at a discounted price. This is simply a good quality site for lovers of twink porn.
VISIT 8teen Boy NOW!
VISIT 8teen Boy NOW!