Bound Gods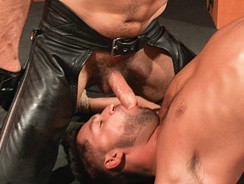 JUB Site Rating:
1 total vote





Updated: 2008-09-22
Primary Categories: Fetish
Secondary Categories: Amateur, Big Muscles, Erotic Massages Handjobs, Gay Hunks, Gay Porn Stars, Group Sex, Hardcore, High Definition, Multi Site Networks, Outdoors Public Places, Straight Men, Tattoos Inked, Uniforms, Video Downloads
90 Galleries
508 Videos
Bound Gods's Billing & Pricing
Bound Gods's primary billing processor: 2000 Charge
One Month (recurring) $34.95 usd
Two Months (recurring) $59.95 usd
Three Months (recurring) $69.95 usd
Six Months (Non-Recurring) $117.95 usd
VISIT Bound Gods NOW!
You can always trust Kink to come up with well made content, but the presentation of their recently released site Bound Gods is something to behold. Not only because of the good design but also because of the way they treat their theme. Seriously. Some BDSM sites do look a little shabby, let's face it, and this reduces their specialized content to something seedy. Here though, we go in the other direction and there is nothing seedy or shabby about these hardcore, BDSM scenes, no Sir!
So we're off to a good start with the impressive tour. Once you sign up you'll find the same pages inside, so you can see from the tour what you will get as a member. Add to that the full length scenes and good image galleries that only members can see and you're on to a winner. The movies are theatrical, there's no doubt about that. The lighting and sets are reminiscent of a stage show when you view the photos but when you see the whole thing put together and run as a movie we're getting close to Hollywood standard. I know that might sound a bit over the top, but seriously: excellent quality filming, performances, staging and all with the added bonus of really hot guys and totally hot bondage scenes.
You'll want to know how you can get to see the movies. Well, it's simple. (Good design and easy navigation, clear links and logical page layouts see to that.) Select an episode from the images on the two index pages and opt for 'movie clips'. You will find scenes can be played in WMV (984kb @ 690 x 540), there are HD versions, a smaller quality one and versions for iPods and smaller screens (mp4). Simply click a clip to get it streaming or take the option to download the whole thing in a zip file for unpacking and enjoying later. You'll also notice a Streaming option, this one plays in Real Player and there is a link to the software download if you don't have it.
Looking at the photos that accompany each scene you'll find them arranged in sets, sets lead to thumbnail pages and thumbnails lead to individual pics at 1200 x 800, top size. Clear, easy to view, PicLens enabled and downloadable in zip files. Perfect.
As for the action itself, you have gang bangs, master and slave, loads of rope work (including guys upside down), hoods, masks, anal toy play, insertions and plenty of oral and anal too of course. The guys are verging on the classic Greek Good look with some too-cute-for-words boys in there too. It's a good mix of cast.
There were ten of these full length episodes when I called in, with more on the way but don't think that your content offering ends there. There is a model index, you are invited to get interactive and send in your comments, and you can read what other members have written too. Search the links at the bottom of the main pages to find 'Behind Kink', a link that will take you to the blog. There's also a link for Jobs, the Kink store and customer support should you need it. The whole experience is a good one and I for one can't wait for more of this excellent content to be made and posted.
Bottom Line:
Bound Gods is off to an unfettered, flying start with its classy look, top guys and excellent video presentations. The whole site is a joy to use and the BDSM sex is perfect. More content would have flogged a five out of me for sure.
VISIT Bound Gods NOW!
VISIT Bound Gods NOW!