Horny Model Boys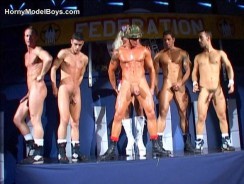 JUB Site Rating:
0 total vote





Horny Model Boys's Billing & Pricing
Horny Model Boys's primary billing processor: Ccbill
$28.95 for 30 Days Recurring every 30 Days
$29.95 for 30 Days Non-Recurring
$46.95 for 60 Days Non-Recurring
VISIT Horny Model Boys NOW!
Chris Geary is what you might call an all-rounder. He's a photographer; he makes videos and writes reviews for a couple of magazines. He also has several websites under his belt - a place we'd like to go: he's a fit and hunky guy too. At Horny Model Boys, one of his sites, you can get to see his collection of photos and videos from his travels around the world. But these are not holiday snaps, no sir! These are cute and hung, studly and fit guys and plenty of them too.
The first thing I should say about the site is that it is very simple. You sign up and log in and just about everything is white. There are seven groups of guys across the top of you main page and a contact email if you have any problems. That's it.
I started at group one, seemed logical to me, and a new window opened. (New windows opening is a feature of this site, so watch out.) 21 guys were featured in this group and I have to say the thumbnails showing them were on the small side. We're also told that the videos on show here are not as good quality as the others on the site; I like the honesty and assume these are early photos and videos. Of course I had to check the videos and yes, they weren't brilliant: 93kbps @ 240 x 180, with a lot of pixilation - but I kind of got used to it and was able to see the sexy young guy posing in his tight Speedos before stripping them off and jerking.
As you start to explore the other 'groups' your quality options soon increase. There's a medium quality version of the videos at 115kps @ 320 x 256 and a high one at 492kbs @ 352 x 288. Some of these clips run for a minute while others are 15 minutes or so - it's all a bit of a mish-mash but yet it works.
It's interesting to follow the progression from group one through to seven; there are around 20 sets in each group, that's sets of video clips and galleries and there are a variety of guys appearing in them. You have young jocks in their wrestling gear and swim-trunks which put me in mind of those sexy Olympic athletes, you have older guys in the thirties, straight guys jerking off, hunky chaps and amateur British guys all mixed in together. It's a good collection and you soon get used to the way it works. It still comes across as rather simple and basic, in terms of design and layout but the point of that is to show off the guys and not to let fancy gizmos and high-tech wizardry get in the way.
Having said that you are invited (in more up to date groups) to view the full video in the new 'Microsoft Silverlight' - you will have to install it to use this function and when I looked it was in Beta 2 phase testing. This will run the movie in a full IE window.
Getting back to the photos: these come in three kinds of galleries with a small size and a large (572 x 770), followed by video screen caps of the video shoot. The photos reflect the videos which means you are going to get variety: there were behind the scenes pics, solo models, groups jerking off indoors and out, uniforms, pride marches and just about everything in between. And that's what the site is about I guess, variety.
Bottom Line:
It's a bit of an adventure as you never know what's going to pop up next. There are all kinds of guys here in good quality images and reasonable quality videos. It's Chris Geary's private collection made public in a simply designed site.
VISIT Horny Model Boys NOW!
VISIT Horny Model Boys NOW!