Jeff Conti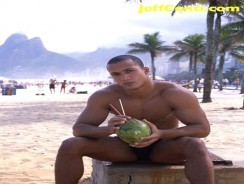 JUB Site Rating:
0 total vote





Updated: 2008-09-11
Primary Categories: Gay Hunks
Secondary Categories: Big Muscles
Currently No Galleries
72 Videos
Jeff Conti's Billing & Pricing
Jeff Conti's primary billing processor: 2000 Charge
$19.90 for 30 Days recurring
$44.90 for 90 Days non-recurring
VISIT Jeff Conti NOW!
Ah bless; there's a lovely introduction to the site from Jeff in which he apologises for any English grammar mistakes (as he is French) and then goes on to tell you his "rags to riches" story. Jeff bought a camera when he was 22 and tried photography as a hobby. He took some shots of a guy but didn't think they were good enough for publication. But then, picked up by a gay publication, his images were put on the cover - now he has had his pics published in Honcho, Mandate and Torso. Now, Jeff has expanded his horizons into the land of video. He certainly has a talent and he's got a great looking site to prove it.
Actually it's a very simple looking site but that's great because there is nothing to distract from the photography, which is what it's all about. There are 32 guys so far across the five index pages in the members' area, each one as stunning as the one before. Jeff has an attraction to Brazil, so you can expect some hot Latinos as well as European models here. Antonio was top of the list, a 23 year old law student from Brazil with a toned body, cute ass and nice, uncut cock. But he's just one example of the exclusive men you'll find here. Each of them has a short write up and some stats to accompany their galleries and, where available, videos. It's not too much text which again doesn't distract but it helps you get to know them a little more.
The galleries are unusual, as there are no thumbnail pages. It's a question of clicking through each image one by one. Sound like a chore? Actually it isn't, each image opens quickly and each one is a little gem. Jeff knows how to use his camera. He also knows how to use his video camera. The movies show the models during the photo shoot, posing and stripping down and there's a musical soundtrack which is ambient and non-intrusive. You have a choice of three qualities to stream or download but even streaming the lowest quality file brought a decent sized screen with little pixilation or jerking. In fact 'smooth' is a word that would sum up this site: smooth running movies, smooth bodies and smooth navigation. Imagine: calming music is playing as a sexy hunk erotically plays with his cock, looks to the camera, not for direction but to fix you with his eyes and celebrates his body; the camera zooms in tight on his asshole, then plays around his body and the scene gets a little harder - as will you. Add your favourite scented candle and you'll be transported as if in a trance to the erotic world of Jeff Conti.
Just to bring you back down to earth, some of these dreamy guys only appear in photo sets, not all have videos. The more recent ones do and they all run for a good length of time, giving you plenty of opportunity to join in the action, get yourself worked up and - if you can do it - shoot at the same time as the boy who is performing for you.
Bottom Line:
It's all about the beauty of the male body here, at play, relaxing, stripping, dancing, jerking off... Jeff captures some stunning guys in top quality images and well made movies. It's a dream of a site that looks set to expand as time goes on. It's simple to view and use, it has a very basic design but technically everything works well and there is nothing disappointing about it at all. Of course, more content would get it a higher rating but be patient and it will get there.
VISIT Jeff Conti NOW!
VISIT Jeff Conti NOW!