Sean Cody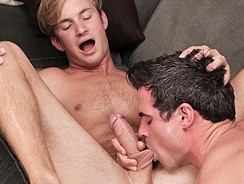 JUB Site Rating:
12 total vote





Sean Cody's Billing & Pricing
Sean Cody's primary billing processor: Ccbill
$27.95 for 30 days. Renews at $27.95 every 30 days - after 3 months membership fee drops to $23.95 per month, after 6 months fee drops to $19.95 per month
$34.59 for 30 days non-recurring
$72.95 for 90 days non-recurring
VISIT Sean Cody NOW!
You know. it's really difficult to write anything about Sean Cody that has not been written before, and that's usually things like 'brilliant' 'hot' 'perfect amateur guys' 'many sexy straight men' and so on. But I will give it a go just for you.
The first thing I can say that may be new is that there are many more videos here than last time I visited the site. I just counted 1,068 across 89 easy to use pages. So that impressive number has got me off to a happy start. The next thing I can tell you is that this site is so simple. Maybe it's simple to the point of not being very interactive for members, as there is no model index, stats, comments, rates or favorites area - just a simple search function where you find guys by their names. But those kinds of functions are not the be all and end all of a site and, as long as you can live without them, you'll be more than happy here.
So, a simple site and one simply about men, to put it simply. And what kind of men? Well, Sean himself says that the majority of the guys on the site are straight, to some degree. There are gay and bi guys here to but he seems to have a knack of finding either genuine straight men up for doing some gay sex, or guys willing to explore their sexuality before a camera, or just hunky handsome guys who look straight. Lovers of the smooth jock type guy will do very well here as there are loads of them. The boys are also cute, generally smooth, youthful and fit. They appear in solos as well as hardcore scenes, and there are some 'behind the scenes' movies too; so a good and varied collection.
Actually viewing the videos is made easy for you because you have a lot of choices. But they are protected so you will have to stay a member to keep viewing them. You can download three versions of WMV, in three qualities/resolutions, though the transfer rate was slow at 56kbps, which is going to be a pain for the top quality HD downloads. You've also got streams, and Quicktime files as the site is Mac compatible, and it works with your iPhone and iPod, and probably other i-Type things too. Movies come with screen cap galleries beneath your viewing options. These thumbnails open to 579 x 326 in size and are clear enough to view though not huge.
As you browse around the movies you will see that the guys have their names linked to pages where you can see all their appearances. This isn't actually a model index but it does mean you can easily follow your favorite guys. So, when I saw Isaac massaging and blowing bodybuilder Marc in a horny movie and wanted to see more of Isaac, I clicked his name and found 21 scenes that he featured in. Yes, I would have loved to have found out more about him, and I will when I go and see some more movies and listen to the chats or interviews, but he is just one star in a glittering array of perfect, heavenly bodies that makes Sean Cody the number one, stellar site that it is.
Bottom Line:
You won't be able to get very involved here, but you will find it irresistible and tops for quality. The movies are exclusive to this master of the straight-looking man porn genre and they are perfectly well made. In fact everything about the site is perfect, there are over 1,000 movies and each one as hot as the one before. Really, for jocks and smooth, fit and horny, straight-ish men, you need look no further.
VISIT Sean Cody NOW!
VISIT Sean Cody NOW!