Wrestle Hard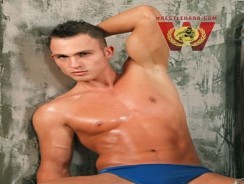 JUB Site Rating:
1 total vote





Wrestle Hard's Billing & Pricing
Wrestle Hard's primary billing processor: Paycom
$19.95 Monthly (Recurring)
Automatically renews each month
at $19.95 until you cancel.

$25.95 Monthly (Non-recurring)
30-day membership, does not renew
VISIT Wrestle Hard NOW!
Once upon a time I was asked to review a wrestling site. It started out with a good looking tour that showed younger guys in tight fitting lycra, grappling with each other on mats. But once inside I found it to be a weedy twink site with more zits on show than neck-locks or half-Nelsons. A real disappointment. Since then I've been on the look out for a top quality, hardcore, specialized, wrestling site that would restore my faith in the genre.
And I've found it!
Yippee and all that. Wrestle Hard does just what we want a wrestling site to do. It brings us classy guys, fit, sweaty, hard and both in and out of their vests; it brings us well made movies that start with wrestling bouts and end up with hardcore sucking and fucking; and it brings us good quality viewing choices for both videos and galleries. And then it gives us a community forum so we can share with other members, and there are also behind the scenes episodes to show us what goes on. It's rare for me to give a top rating for a site when it doesn't have over a certain amount of vids or galleries, but here I all making an exception because this is an exceptional site.
Your 46 videos come in a choice of viewing, streaming Flash only but at three resolutions. You're told when they were loaded, you're told about the fight and the guys, and each of the scenes is a dream when it comes to living out the fantasy of hard men wrestling followed by hardcore sex. It's a shame that I only found streams and no downloads, but there you go. The medium Flash was fine so the larger one will be even better if you can take the buffering needed, and actually even the lower quality one was large enough to enjoy, clear and not pixilated and it buffered really quickly.
So, you're clicking through the episodes, five per page and you can easily see who is in each one and what goes on - and what comes off as they usually end up naked. These bouts are real, by the way. Have your sound tuned up to hear the grunts, groans, swearing and other ejaculations as the men rough it up on the mats; then keep the sound up for the other kinds of ejaculations later. But if you want to find out more about the guys you can check them out in the model index; there were 47 guys there when I looked. You get some basic stats and info and great sets of images that you can download in zip files. Images open in flash and are a decent, medium size.
Over in the community forum you will find members posting away and you are able to get involved. There were around 20 behind the scenes videos to view too so you can really find out what goes into making these unbelievably horny bouts and fights. That's a nice set of extras as they remain on topic and reinforce the fact that Wrestle Hard is a site for true wrestle and follow-on sex fans. And if you're not a fan yet you will be in a very short time.
Bottom Line:
This is a real wrestling fan site; you will see genuine, hard fought wrestling bouts with bodybuilders and well fit guys which lead from the fight to fucking through an erotic journey. The filing is great, the design of everything is good too, there are good choices of streaming quality and nice and clear digital images. Get involved in the on-topic forum and view what goes on behind the scenes.
VISIT Wrestle Hard NOW!
VISIT Wrestle Hard NOW!