Video Boys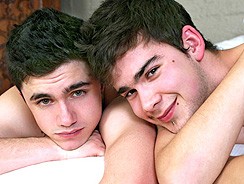 JUB Site Rating:
0 total vote





Video Boys's Billing & Pricing
Video Boys's primary billing processor: Ccbill
$29.95 USD 30-Days Recurring Membership
After 2 months rebills at $23.95 USD
$34.95 USD 30-Days Non Recurring Membership
$64.95 USD 90-Days Non Recurring Membership
VISIT Video Boys NOW!
When you see names such as Pierre Fitch and Jeremy Roddick on a site then you know you are in the right place for well made and horny hardcore. How often do you get to see these two sexy boys in the same video? You can at Video Boys and I can tell you that you are not going to be disappointed. This site has a collection of some 32 new movies that feature only the cutest, most innocent looking young guys who have a trick or two up their sleeves, and an inch or several down their pants. It's hardcore boy on boy action all the way to the cum splattering finales and there is more of it on the way.
Coming to the home page, via a page of other sites that I will come back to in a moment, is like walking into a candy store. You don't know where to look first and things start to throb in all the right places even before you start opening the streams or downloading the files. There were 11 screen shots on page one leading to uploaded movies, with a preview of the next hot one due to go online in a few days. Page two brought more delicious guys, with plenty of videos staring Pierre and Jeremy plus equally as hot youths whose names may be new to you. Page three took me back to February 2008 and the first of the movies to be added at the start of the site. Since then it's been a regular one new show a week, so your updates are assured.
To be honest I had no idea where to start. A threesome scene perhaps, being greedy for youthful flesh, or one of the many duo scenes? I've seen Pierre and Jeremy in action before so decided on someone new,
(while I was eagerly downloading a Pierre and Xander scene)
. Alec Winfield and Shane Leblanc caught my eye and their movie page came with a set of 50 images that opened in a flash player. These were reasonably sized and nice and clear, so no worries about image quality there. The movie itself was available in four ways: streaming a large and a smaller version plus downloads in both large and an iPod compatible version too. You can also click over to the store to find full length DVDs from which some of these scenes are taken.
As I expected, from a site that was professionally designed, well laid out and good looking, the video quality didn't disappoint. Even the small versions
(Quicktime)
were good on quality, well filmed, naturally played out and, need I say it, horny. Boner city or what!
The scenarios are basic but we're not here for plots and intrigue. The two, three and sometimes five, guys meet up and it's not long before we're into the sex. Which, by the way, covers just about every position and act you could care to think of. From kissing to hardcore butt-fucking it's all there and the good looking boys ride each other like there is no tomorrow.
I remembered that the tour had stated 'more than 300 models, 1,600 videos and multiple updates each week'. There was something I was missing. Then I realised that Video Boys had opened in a new window and I still have more sites to visit. Listed on the original window were Squirtz, another great site for sexy twinks and Jeremy Roddick's own site, with its great looking content, guys and blog posts. There were also two bonus sites, Maximo Latino and Cruiser Boys with hours more Latino and twink action movies to view. Let's just say you are well looked after in the content department at Video Boys.
Bottom Line:
New, great quality and featuring some of the best names in twink porn this is a dream of a site for lovers of smooth, hard and cute young guys. Updates are regular and there are four other sites included in your value for money membership.
VISIT Video Boys NOW!
VISIT Video Boys NOW!