Southern Strokes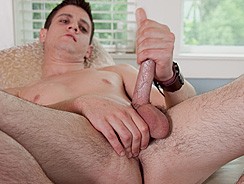 JUB Site Rating:
0 total vote





Southern Strokes's Billing & Pricing
Southern Strokes's primary billing processor: Ccbill
5 Day Pass
$21.95 for 5 days

30 Day Pass
$26.95 for 30 days
Renews at $26.95 per month until cancelled.
After 3 months, membership drops to $23.95 until cancelled.

30 Day Subscription
$32.95 for 30 days
One-time charge.

90 Day Subscription
$69.95 for 90 days
renews at $59.95 per 90 days.
VISIT Southern Strokes NOW!
Coming back to take another look at Southern Strokes is like coming back to visit old friends. There's something about these boys that makes you want to revisit them time and again; even if you've seen the videos once you'll want to see them again. There is also something about the site that makes it friendly and it's a really cute place to snuggle up to when you're alone on a cold night.
The idea behind Southern Strokes is that we get to see guys from the southern parts of North America, or guys who are simply travelling through. I'm not sure how they find these hunks but I am very glad that they do. These boys come along, sit on the bed or on the sofa, and have a chat to the camera so we get to know them first. And then the stroking starts... In most of your 36 episodes this is going to be solo work with some action scenes in there too. The guys start by slowly stripping off, getting their juicy cocks nice and hard, and then gently stroking them in a good 10 minute long jerk of session. The filming of these episodes is well handled, the quality is great, the sound is nice and clear, and you really get a feel for the boys behind the dicks.
All of these episodes are shown to you on the main index pages. When you login to the members' area you come to page one, with the most recent updates featured. Checking these dates I would say there's something new here every couple of weeks. That may not sound like a lot but we are looking at quality and originality here; these are all exclusive episodes and you won't see them anywhere else. Beside a good size picture of each boy, or boys, involved in each scene you have a nice write-up, and, as you read these, you start to get a feel for not just the guys but for the way the site is set up and run. There is some background information about how the webmasters found these little hunks and how they persuaded them to strip off for the cameras. It is good reading and worth taking the time to do, because when you then click to the videos and pictures you'll feel you know these boys intimately.
When you go to an individual episode and its page you'll find the description again, and the large photo, but scroll down to see the gallery pictures on offer. Again, there are not huge numbers here because we're looking at quality rather than quantity, but images to pick up to a good size, and you get to see all the best bits of the action this way. Scroll further, to the bottom of the page, to find your video link. Click to get to the video page and there you are treated to a really good set of viewing options. You can stream immediately in the Flash player, which is a reasonable size, or you can download in WMV and QuickTime formats. There are a couple of choices of resolution, but if you can go for the 1,059k at 640 x 480 screen size, you'll get the full benefit. File sizes aren't huge and the download speed is reasonable.
There is a slightly odd thing at Southern Strokes, which is called the Strokers' Lounge. You'll see this link on the home page. When you click it you will be asked for your username and password and, when you enter them, you will find yourself in a different area. This looks to me as if it was going to be a blog at one point, but nothing much has happened with it since June 2008.
Bottom line:
Exclusive content, hunky guys, good-quality filming and an original approach to straight and bi guys jerking off or getting it on together. That's what you can expect from Southern Strokes, a site that continues to grow, albeit slowly, but one that brings you excellent value for money and totally hot guys.
VISIT Southern Strokes NOW!
VISIT Southern Strokes NOW!