High Octane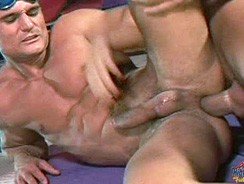 JUB Site Rating:
0 total vote





High Octane's Billing & Pricing
High Octane's primary billing processor: Paycom
High Octane's optional billing processor(s): Paycom E.u
$29.95 per month recurring
$59.95 for three months recurring
$99.900 for six months non-recurring
VISIT High Octane NOW!
High Octane pumps out full-on, hot, sizzling, hard-man porn at the rate of something new every week. And that something new adds more pressure to the already packed site which is in danger of splitting its casting and exploding all over you.
Yes, there is a lot included in your membership, and yes I really like this site. I saw it a while back, not long after it started, and thought then that it was going to do well. I'm pleased to say that it has and it continues to do so, providing us with exclusive scenes that feature only the toughest and sexiest of guys. Your membership also lets you in to five other Rear Stable sites, so look out for the links on the tops of your main pages.
Meanwhile, back in the boiler room. High Octane takes these hunks and younger jocks and puts them together in chemistry fueled scenes that members get to view and download. You've got an area for Movies where you see the box shots of exclusive released DVDs. You then browse each one to find its scenes, or you can go to the Videos area and search among the individual scenes that way. I liked the DVD titles and their variety; ok, so you've got your classics like 'Cock Tales' and 'Deep Probe' but you've also got some genre movies such as 'Farm Boys' and 'Medic Men.' Each scene from each video is guaranteed to be well made, good quality and well put together, and you've got over 100 scenes to choose from so far.
What you don't have is much choice over your downloading. You can stream the scenes in flash where you have five resolutions of WMV and five of Flash per scene, but if you click to download a movie you get what you're given. That's a good enough resolution but file sizes may present problems to those on a slower connection. Mind you, they are well worth waiting for.
Variety is the next thing that stands out here. The men are not necessarily all of a 'type' though they do tend to favor studs and hunks and jocks at this production house. But you have variety in the pairings and the group scenes, the locations and the action which captures solos, duos and some orgy moments indoors, out on a camp site, in the gym, in the fire station or on the farm etc. Basically you don't get bored.
What you do get, apart from the exclusive top-quality movies, are solo and action galleries, 150 in total. There are slideshows, images at 620 x 900 in size, all collectable, and these are in addition to the screen caps that come with videos. In your model index you'll find 184 sexy guys to check out and rate and you can easily click to their appearances once you've chosen someone to drool over. There is also an included live show with a schedule and recordings and this is only available to members of the site or others in the network. That's a real added bonus, not that you need one with all this pumping hot sex going on.
Bottom Line:
High Octane continues to pump up the adrenaline with its horny and exclusive movies, the quality of its guys and productions and its frequent updates. The inclusion of an exclusive live show, with a good schedule, simply adds even more value to a site
(and set of sites as you have bonuses)
that delivers great vale and great sex. Be prepared to sweat a bit, and have your blood pressure pills on hand, and you should be fine when you sign up here.
VISIT High Octane NOW!
VISIT High Octane NOW!