Bareback That Hole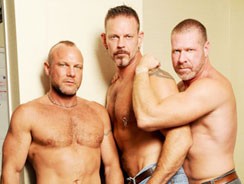 JUB Site Rating:
0 total vote





Bareback That Hole's Billing & Pricing
Bareback That Hole's primary billing processor: Paycom
Bareback That Hole's optional billing processor(s): Paycom E.u
$6.95 for 3 days
$29.95 per month recurring
$44.95 for one month non-renewing
3 month Membership at $19.95 per month
6 month Membership at $14.95
VISIT Bareback That Hole NOW!
It doesn't take a genius to figure out what Bareback That Hole is all about! But what is not so obvious is just how good the content is, how exclusive it is and how much you're going to enjoy this top bareback site. You've got a trial offer to take if you're being cautious but my advice is to go straight for the longer-term memberships and take advantage of the reduced rates; you're not going to regret it.
You slip in to the members' area like a well greased cock slipping into a well used hole and you find the latest 20 minute scene right here ready to stream. Beneath you've got shots from the other updates, video categories which are made up of bareback, felching and cum play, two bonus sites, a link to the Bareback That Hole mobile phone ready site
(worth a look)
and a top menu to take you to the main areas of the site. It is a simple set up here, and that really helps you get to what you want to see: The stiff dicks of hunky models battering bare asses bareback.
After being momentarily distracted by the latest video, I clicked over to the all Videos area to find a staggering amount of 200 exclusive rubber-free movies. The first one dated back to 2008, so the site has been around and growing, getting better and better, for over two years now. And their experience shows. You can select any vid you like from the well presented samples on the index pages and then simply click the 'more' tab to see all your viewing options and galleries. There are also good text descriptions here, links to the models' profiles, a Flash stream that runs immediately, linked keywords, full screen galleries and a choice of file types and resolutions for downloading. All technical things run perfectly at this site and it really is a joy to use.
And it's pretty joyful to see the scenes in action too. You've got at least two hot bodies writhing around in wild abandon in each movie, sometimes there are threesomes too, and each film is well shot and well put together. Run times are good, with around 20 minutes being the average, and the action starts with strip and suck and ends, via the bareback ass pounding, with squelching cum shots, jizz on or in the ass, and then there's some felching involved too. Just as advertised, and better than expected.
Back on the top menu you've got a model index with currently 96 hard and horny guys appearing in great sample shots often taken from the action they appear in. Select one
(you may have to take some time over this as it's hard to select just one from such a hot and varied collection)
and you have some details, and links to his appearances. That done, you can then check out the extra footage for behind the scenes action and some cum-shot collections, check the blog, search for models by name and return to the home page to start again.
You're going to find the site easy to use, fast to download, it fulfills its tour promises and the quality is spot on. Updates appear to be a bit on the slow side at one or two per month, but you've got two other exclusive and on-theme bonus sites to look at while you wait; Sweet and Raw, and Bareback Adventures.
Bottom Line:
A great bareback offering form a top company who know how to make quality and on-theme content and know how to present it well. Great value and definitely well worth a long-term membership.
Safe Sex Notice:
This gallery contains images of unsafe sex practices, also known as barebacking. Engaging in sexual practices without the use of a condom is a risky and unnecessary behavior. There are a lot of studios including the one listed on this page that film bareback or have bareback scenes in their content libraries. The images presented below should only be used for fantasy and you should not deceive yourself into thinking that "everyone is doing it." Further, you should not assume that just because you see photos or film content of barebacking that sexually transmitted diseases have been miraculously cured. HIV and other sexually transmitted diseases are very real and potentially lethal. Please practice safe sex in your own life and educate yourself regarding the dangers of not wearing a condom before having sexual encounters. Visit AMFAR for more information about safer sex.
VISIT Bareback That Hole NOW!
VISIT Bareback That Hole NOW!