Absolutely Male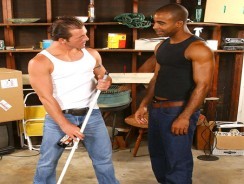 JUB Site Rating:
0 total vote





Absolutely Male's Billing & Pricing
Absolutely Male's primary billing processor: In House
3 Day Trial Credit Card Membership $0.00
3 Day Trial Checking Membership $0.00
VISIT Absolutely Male NOW!
Grr! I hate it when you enter your membership details and the first thing that comes up is an advert for another site. Get off!
Right, got that out of my system, where am I...? The members' home page, ah yes, and great feature number one: a check list at the top that tells me my bonus sites, cams and dating for my local city are all activated. How kind. Great feature number two: the list of DVD categories, the searchable database and the list of photo categories. This is a site that, once you get into it, makes finding what you want to see really easy. But the best feature, the greatest draw, is the fact that Absolutely Male caters for your every need when it comes to finding hot males to view. And hot bodies, cute guys, hardcore sessions and in just about every category imaginable.
You can of course simply scroll through the many pages that contain the DVDs. Each box cover has a details box attached to it so when you hover your mouse you can see at a glance if it's what you're looking for. Each DVD comes with cast and crew details (the kind of thing you would see on a VOD site), you can stream or download the scenes and each scene has a set of screen caps too. So, technically this is an easy site to use, great.
As for the kind of content you'll find: There is a bias towards studs, bears and the hunkier older guy as opposed to twinks or teens, which is always a good thing to find. There are 30 studios listed as the content providers so if you have a favourite studio you can see how many of their movies are featured here. Example, the excellent VIDEO 10 has 48 titles, Forum Studios has 10 and there are a couple from Daddy Oohhh! Productions. And as to what the super-sexy-stars get up to in these movies; there's everything from solo scenes to bareback orgies, some fetish, leather, outdoors, poolside and indoor scenes, masses of oral and anal to keep your wanking arm busy and many sexy first time amateurs too.
The main thrust of the site is the collection of DVD quality videos of course but there is more to Absolutely Male than just that. Take the many photo sets for example, each with a varying amount of pics per set. You have BDSM galleries, twinks and teens, cumshots, ethnic guys and more hunks too. Full sized images open in a new window and fill the screen - which can make for some pixilation on some of the shots but it's nothing too dreadful. The gallery collection is as easy to browse and search as the videos and there are loads of good looking guys featured here, more than enough to keep you happily hard for several months.
The movies and galleries are the two main parts to the site but there are other things advertised: chat, cams and an on demand theatre but these aren't actually part of your site. Just like that annoying advert when you sign in these are links to third party sites that may or may not require additional funds to fully function. Having said that, they do appear to be the better ones from the bunch out there and you have four full bonus sites to access for free.
Bottom Line:
This site consists of: A good, non-exclusive collection of videos from some well known studios that are easy to stream or download and very satisfying in the sex department. The same goes for the large collection of images. It's an easy site to navigate, offers you value for money and has some links and adverts to other sites that may be of interest.
VISIT Absolutely Male NOW!
VISIT Absolutely Male NOW!