Hunk Exclusives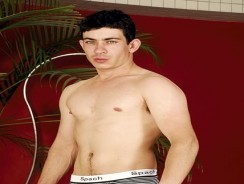 JUB Site Rating:
0 total vote





Hunk Exclusives's Billing & Pricing
Hunk Exclusives's primary billing processor: Ccbill
Hunk Exclusives's optional billing processor(s): Paycom, Paycom E.u
$29.95 for 30 Days Full Access
$69.95 for 3 Months Full Access
By Phone: One Month Access
One Time Charge of $34.95
VISIT Hunk Exclusives NOW!
If you're looking for lots of varied content then Hunk Exclusives gives you a good deal. For a decent monthly fee you can access loads of content and keep up to date with new additions on a regular basis. The site is, they say, going through some changes to bring you even more sample pics, up-coming news and it's already an easy members' area to access and play with. So it looks like you're in for a value for money treat here, as long as you are up for a little bit of everything hard and gay.
But is it all as exclusive as the title suggests? To be honest with you I'm not sure. Never one to totally believe a tour and all its promises, I did have a look around inside this great barn of a porn theatre and thought I saw some scenes and photos that are not necessarily exclusive to the company behind the site. Maybe they are and I just didn't know it, but I'm not going to dwell on this point because there is so much here that, even if it's appeared on other sites, the chances are no one would have seen it all.
For example, there were 266 photo sets here, with solos and action shoots, good quality pics that were easy to browse, and loads of hunky guys appearing in them. There were 240 video scenes with a variety of ways to stream or download; full files and streaming Flash clips, good quality and loads of variety in the models and the action. There were seven bonus sites, though these are available as stand alone sites and have also appeared as bonus sites for other networks, there is still a load more porn here and lots more variety. I then came across, no literally, 37 feed sites - definitely not exclusive but fine to view, with streaming movies and again, more variety than you could imagine. The 17 stories were good quality, horny to read and well written and I did notice that one had been added a couple of months back. So I wonder if the site is going to be adding even more over the coming months?
The rest of the content was made up of a set of 18 clips which, apparently, change every day so you've got 17 categories of horny porn to view each day, with something new in each one. There were also suggested links, help and support, good update news on the home page and an easy to follow main menu.
You may have noticed that I'm not raving about Hunk Exclusives, nor am I putting it down. It deserves attention and it gives good value, it has lots on offer and you don't go short of porn to get off to. In that respect it's just fine. And that's why I'm not raving, it's fine and that's it. Yes, it's well stocked, yes, the quality is decent enough, it's easy to navigate and get around, there are no technical problems and updates seem to be on target. But to me it's just a large collection of porn and nothing special. It uses a template design that many adult sites are using these days, it doesn't have a great design or even a 'feel' to it, it's rather like a municipal library as opposed to an antique book store. No great atmosphere.
But don't let all that dissuade you from taking a look and making up your own mind about it, certainly you get a lot here and it doesn't cost you much.
Bottom Line:
A big and ever growing collection of standard, hardcore that is well presented in a basic way and that is good value for money. You've got a bit of everything here at Hunk Exclusives, that may not always be exclusive, but which is always easy to access and good to view.
VISIT Hunk Exclusives NOW!
VISIT Hunk Exclusives NOW!