Beddable Boys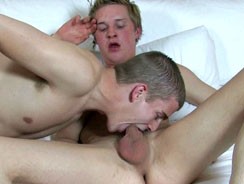 JUB Site Rating:
0 total vote





Beddable Boys's Billing & Pricing
Beddable Boys's primary billing processor: Paycom
Beddable Boys's optional billing processor(s): Paycom E.u
$28.44 - Monthly Membership
$54.21 - 3 Months Membership
VISIT Beddable Boys NOW!
Beddable Boys comes at your from the makers of Best Bareback and the Gaylife Network and at first it's hard to determine what is different about this site. You will find some of this content on the other sites that you can access with your membership so take the time to search all three to find the best looking, horniest twink that you can. And that's going to be a difficult task let me tell you - not because there are no sexy, horny twinks here but because there are so many. I'm not sure where they come from but I for one am glad that they turned up for their photo and videos shoots.
There are way over 100 young lads here in solo, duo and group scenes; there are bareback and cum swapping movies, straightforward suck and jerk ones and plenty of varied locations to fuel your fantasies. Two guys by the pool, three on the sofa, a couple on the bed, boys in sports gear, boys with toys, some with hairy chests (slightly older) most are smooth though and some completely shaved, the list of variety goes on and on so I hope you can see that you're getting slightly more than the usual at Beddable Boys.
Technically everything is simple to use: the site is easy to navigate with a top menu, the videos come in a variety of stream and download options including full length, high definition ones and the galleries come with a slideshow option. Many of those pics are direct from the video camera and so appear as screen caps but we've seen worse and the galleries follow the story of the accompanying videos or you can use them as a way of seeing how the action unfolds, to make up your mind if you want to commit to the download or not. (You will.) The galleries, by the way, are also downloadable as zip files so you can easily grab the entire set, unpack them and then keep them for as long as you want.
The movies are arranged in clips too, making them easy to flick through; you can take a part of a scene or the whole thing, it's up to you.
If you have a particular kind of guy in mind, say someone aged 20 with an athletic build, you can use the search engine/model index where all the boys on the network are easy to find. I searched for age 20 with an athletic build for you and found 12 guys fitting the criteria. There are a few more stats here so you can learn a little more about the lad, not many though, and there are links directly over to his video and/or photo sets. Check out Milan from this search to find his hot pool session with another cute, blonde, twink in 'Swim Fantasy', very nice!
As for quality, no problems there. Apart from perhaps the screen caps, a format which never looks too great. But the movies are well put together, you can't fault the guys and the action is certainly what you are promised on the tour. There are some gay and straight feed sites to view too plus advertisements for shops and chat sites you may not have come across before.
Bottom Line:
A simple site from a straightforward network that offers hot twink action vids and galleries and delivers them. There's not much information about updates but with three sites to choose from you're going to find something new on a regular basis, I hope. Make use of the great search engine to check out the kind of boys you want to see, get ready to download loads of hot content and away you go.
VISIT Beddable Boys NOW!
VISIT Beddable Boys NOW!