Harry Forman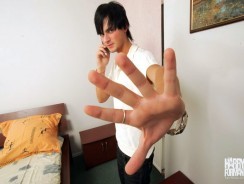 JUB Site Rating:
0 total vote





Harry Forman's Billing & Pricing
Harry Forman's primary billing processor: 2000 Charge
3 Day Trial $4.95
1 Month Full $29.95
90 Days Premium $69.81
VISIT Harry Forman NOW!
Harry is also known as the Hungarian Macho but he's not exactly what I would call a macho guy. He's a twink, a rather cute, college-dude-ish looking young thing with dark hair, a smooth body and a need to make some cash. He's doing this to put himself through college, bless, so the least we can do is throw some cash his way, sign up and be rewarded with his exclusive content.
Harry's got 18 exclusive high quality videos and photo sets on his site so far, at least he had when I called in. With three new episodes listed per month there should soon be many more. The older ones are solos with Harry getting up to all kinds of mischief but the more recent ones involve some of his equally as cute college buddies.
Such as Klaus; a nicely hung and totally shaved lad who will have you reaching for your boner just as Harry reaches for his. This is a hardcore, bareback anal scene with plenty of youthful jizz splattered about at the end. You have good video viewing options, a large and smaller full length version to download and the same scene cut into smaller parts for ease of streaming/downloading. The quality is fine, the streams happen nice and quickly and there is plenty of technical help available if you have any problems.
So what else does this naughty college lad get up to apart from fucking his sexy buddies. Sex mainly. It seems he can't even study without whipping is long, slim cock out and giving it a good working over with his pen stuck up his ass. No wonder he needs help with his college work if that's where he keeps his writing equipment. But it's not just pens that he likes to tickle his ass with. Here's a new use for your video game controller: set it to vibrate and insert part of it carefully into your ass. You may not win any extra gaming points but you'll realise that there is more to video gaming than just viewing. And if you ever wondered what young guys do with their morning glory then Harry will show you in his 'Morning Erection' episode. The sex continues with a couple of helping hands in 'Mid Year'. Another couple of students hang out with Harry (in a rather garish, club/student lounge setting) in this three-way episode that starts with some fooling around. It then moves on to some oral action, three sexy young cocks in one shot is always good to see, there's bareback spit roasting before the jizz whizzing finale.
You see Harry is getting better at entertaining you. When the site first started there was only him - though he's enough - but now he's getting bolder and more daring in his videos and the photo sets that accompany them. Who knows where this experimentation will lead? Perhaps to some different locations as this would help. It would be good to see him actually in college or outside and we can always do with more orgies and threesomes. But I aint complaining: it's a new-ish site, he's a great little performer, he's cute and shaggable and I hope he goes a long way. Perhaps when he's finished his college course he could take up porn full time, he'd do well.
Bottom Line:
A small collection of exclusive videos and good quality photo galleries wait for you here at Harry Forman's personal site. Follow the sex adventures of this college twink as he experiments with all kinds of anal insertions, wank techniques and some equally as sexy college buddies. Updates are promised and the content is exclusive.
VISIT Harry Forman NOW!
VISIT Harry Forman NOW!