Perfect Guyz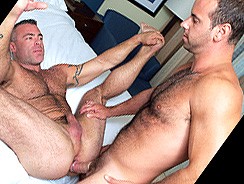 JUB Site Rating:
0 total vote





Perfect Guyz's Billing & Pricing
Perfect Guyz's primary billing processor: Ccbill
7 days for $11.95 rebills at $15.95
30 days $15.95 rebills at $12.95
90 days $34.95 rebills
180 days at $46.96 no rebill
VISIT Perfect Guyz NOW!
Perfect Guyz
prides itself on being a site that brings you "everything you could want in a site that is about the male form.... It is about quality guys and quality production, nothing less. They find the most beautiful men and bring you images and videos using the best technology available and, they say, they value their members. Jolly good! Let'm test them out!
There are 14 index pages in the members' area with a total of 108 guys or couples and we'll come to that main content in a moment. Also on your home page you'll find links to some free wallpaper featuring photos of some of the guys, a page of links to other sites and a place where you can subscribe to get
Perfect Guyz
update news on your mobile phone. You can also use the top menu to apply to become a talent scout or model. A lot of this content is free to non members too so you will find yourself popping in and out of the members' area if you click on these links, but it'm easy to get back in.
So your paid for content are the 14 pages I mentioned before. Each page is the same with the centre box changing to show you which guys you can access from it, you get a face pic and a name to help you decide where to go first. I started with Peyton because he just looked too perfect to be true; young, dark hair, blue eyes, athletic build and everything else I would consider necessary to be my perfect guy. On his page, like on the others, you get his stats and a biography about him and how he came to be here. You also then get the photo gallery with 32 thumbnails that click up to full sized images. You can navigate easily through the big images and it'm easy to return to his home page, so no problems there.
Also on the guy'm individual page you will find a link to his video. The vids are protected so you may need to enter your access details again to acquire the licence. When you click the video tab the movie will start to buffer and then stream on-line but there is also a download option using right click and "save target as", the quality is good, the on-line player isn't huge but it'm big enough and the sound quality is also fine. The vids I saw jumped straight to the hand on dick action with good close ups and long shots of the various hunks working their meat. The movies lasted for around fifteen minutes each and you can jump forward using the slider, though you'll have to wait again for the buffering. It'm probably best to let the whole thing buffer and then run the video to avoid it starting and stopping. The movies with two guys are exactly the same formats and quality only here you get two drop dead gorgeous men for the price of one and the sex is more hardcore with oral and anal action involved.
Bottom Line:
Quality is the name of the game here, the guys are stunning, the video quality is excellent and the photography is great. You get a good mix of men, mainly in their early twenties and athletic, but not too muscled, and they all have big hard cocks and smooth asses. Navigation is easy and the site, though basic in that you get the usual set up of photos and videos, has enough good quality content to keep you interested for a long time. There are also good help pages and you get dates along with the updates, so you can keep an eye on their regularity and make sure the site keeps its promises.
VISIT Perfect Guyz NOW!
VISIT Perfect Guyz NOW!