Visconti Triplets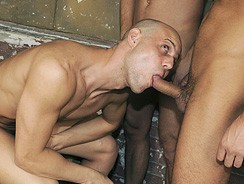 JUB Site Rating:
0 total vote





Visconti Triplets's Billing & Pricing
Visconti Triplets's primary billing processor: 2000 Charge
Full Membership includes unlimited downloads and access to all the DVD's and movies and technical support.
77¢ / day - 90 days membership - Total charge: 68.95 usd - Save 25%
99¢ / day - 30 days membership - Total charge: 29.95 usd
VISIT Visconti Triplets NOW!
The Visconti triplets - WOW! Here they are! The triplets are the very first identical triplets in gay porn just in from Hungary. They are identical, in height at 6'1"?, and they each have an eight-inch cock. They are toned, fit and handsome. So, it's three for the price of one time here as these 22 year-old hunks appear together in their exclusive movies and galleries. Along with this three-ply beefcake content you gain access to two bonus sites so there's even more value for money for you.
The tour area and the members' area look the same except for each time you arrive at the members' home page there's a pop up box that you must close before you can access the content. I mention this because it took me a while to realize that it was in the way and I was wondering why I couldn't get anything else to work - it looks like it's part of the page; annoying.
I found four movies on the home page, each available to download in a large or small version. The smallest 'small' file was 374 Mbs in size and the larger ones were over 1 Gb so you'd best be on a fast connection speed. These were WMV files and instant streaming was not an option. Here you'll catch the guys in smart suits, dressed as mechanics or army guys before stripping, sucking then fucking another hunk or two. Only four full length scenes so far but good quality and hopefully more will be on the way soon.
The images that accompany each one give you a good idea of the scene to come and over on the Pictures page were 12 exclusive photos sets. Some of these have 25 pics while others have upwards of 300. Here I ran into another annoying technicality, at least in the first set I tried. Clicking a thumbnail to see the larger pic the image started to open in Flash; but the screen immediately shrank to a tiny square and the image was un-viewable. Press escape to get out of that and keep trying as other galleries/images work fine with images opening up to a good size. The ones I could see were good quality, well taken, nicely focused and there are some other sexy guys on offer here along with the triplets, even though the triplets, Joey, Jason and Jimmy, are the main attraction. You'll want to know more about them so check the about page for an interview and don't forget your bonus sites, Male Digital and Bisex Digital.
Bottom Line:
There are some annoying gizmos and some technical errors to be sorted, but otherwise this site looks like it has the potential to do well. The quality of the movies and galleries (when they work) is simply fine, and there is no faulting the sexy, hunky, studly, spunky triplets or the men who fuck with them. Some more update news would be good as we don't know how often new content will be along, but you have those two bonus sites to play with while you are waiting.
VISIT Visconti Triplets NOW!
VISIT Visconti Triplets NOW!