Thug Fetish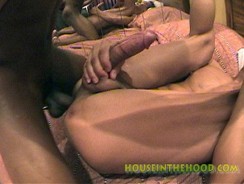 JUB Site Rating:
0 total vote





Thug Fetish's Billing & Pricing
Thug Fetish's primary billing processor: Ccbill
Only 19.95 for 3 day Trial
Recurring at 29.95
or
only 29.95 for 30 days
Reccring at 29.95
or
only 79.95 for 90 days
Reccring at 79.95

PHONE and Single Billing Options are also Available
VISIT Thug Fetish NOW!
It's extreme, it's hard and it's the perfect place to come for black on black fetish viewing. I'm talking about Thug Fetish here and it's a site to be taken seriously. You'll find your horny thugs in all situations, gagged, bound, wrapped and humiliated and not only do you benefit from great fetish sex but you get all that length of black cock to enjoy too.
We're off to a good start with the videos. 18 exclusive movies so far at the site bring you sexy black guys and Latinos in a wide variety of fetish scenes. From a simple jack off in the car to guys completely tied up or wrapped in plastic. I selected one of these at random to test out the viewing options and found that each one could be downloaded. You may need your login details to get to the videos page for some reason but once you are there the rest is easy. The movies play at 1.0 Mbps, 640 x 480 and are a good quality so give the streaming time to buffer before you whip out your... enthusiasm. When they do start to run you will be rewarded for your wait with hot guys, plenty of hard fetish content and reasonably good quality moviemaking. (There is a reality feel to it so expect cameraman shadows and hand held jerkiness.)
Latino guys chained and naked gagging on one of the longest black dicks I've seen; that one belonged to a slim but well built dude in a mask who, when he wasn't happy with his slave, would spit on him. After getting off to that you have pissing, shaving, master worship, gags and mask themed scenes to ogle too: a great selection of fetish and each movie features the promised thugs. I have to say that the design and layout of the video pages is a bit basic, with screen shots and a description for each one listed with plenty of black, unfilled, space on the pages but it's not a problem. You just need to scroll down to find all the scenes, is all.
I found a similar page arrangement with the photo sets but you won't be worrying about the design once you've cottoned on to the exclusive guys, photos and movies. Actually the image galleries are made up of screen caps from the movies but you can run them in a slideshow and there are navigation buttons for ease of use. You can also rate each one - same with the vids - and see how the other sets have been rated too.
It looks like there's a story section on the way at Thug Fetish too - there was one erotic short when I was in the site and hopefully more will be along soon. The search engine is coming along too and draws on the database by category, keyword, actor and so on - some searches bringing up image galleries and some videos.
Check back to the home page for news on what's recently been updated and take part in the members' poll, though I have to admit that I don't know what it is: clicking 'current poll' led to a gallery page. Ah well.
Bottom Line:
I'd say 'yes' and 'maybe' to Thug Fetish: yes because it contains what it promises: movies and galleries depicting black and Latino guys in fetish acts: and some of these are hard to find, like plastic wrap guys jerking off. The models are great, there are some well fit guys and some well hung ones too, the action is real and what content there is doesn't disappoint. Hats off to that. I'd say maybe because there isn't a huge amount of content as yet - but time and regular updates will sort that out and because the design is sometimes amateurish: that's ok too but it does look as if someone didn't really care how they put the content up just as long as it got there. If that's how you feel then great: you'll find good fetish content here with great looking ethnic guys.
VISIT Thug Fetish NOW!
VISIT Thug Fetish NOW!