Toon Guys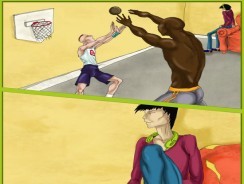 JUB Site Rating:
0 total vote





Toon Guys's Billing & Pricing
Toon Guys's primary billing processor: Paycom
3 Days Trial at $4.95
1 Month at $29.95
90 Days Premium $69.81
VISIT Toon Guys NOW!
Sometimes you want to let your fantasies run wild. Sometimes reality sex just doesn't punch your buttons. Sometimes you want to get off to content that is slightly wilder, more outrageous and, let's face it, simply not possible in the real world. In these situations you want to find something like Toon Guys where the impossible is made possible through well put together drawings and artwork.
There are 18 'comix' at Toon Guys, a toon site with a difference. Some of the differences between this and other toon sites are good and others are not so hot. Let me explain. Many toon sites feature Anime and Hentai and contain hundreds of computer generated images of weird boys with purple hair, long thin cocks with bulbous red ends and fantasy situations that are so removed from real life that they, sometimes, simply don't work. At Toon Guys you have hand drawn artwork that tends to stay on the slightly more real side of life. Yes, there are some fantasy pics (a guy sitting inside a really open, wide asshole; guys with impossibly large cocks fucking another guy and so on,) but in the main the stories contained in the strips are more believable. This makes them more realistic and therefore more horny.
'The Beach', for example, depicts three smooth guys making out on the beach. 'Plane' has interracial sex on a private jet and yes, the size of the cock and the tightness of the boy's as are a bit over the top but it still works. 'Football' takes place in a locker room... and so on. Real situations are given an erotic edge by the graphic depictions of the hardcore, bareback sex that ensues.
The artwork is good; that's the main thing. The images are hand drawn and a couple of styles are in use from (what looks like to me, a non-artist) coloured pencil drawings to paintings. Each page contains a frame of the story, sometimes split-screen as you'd expect to find in a comic, and each tale has around 10 to 12 pages. My only grumble about the site is the viewing of the pages. Click open one page/illustration and you have the page... but no easy navigation to the next one. You must back button to the story's main index and then select page two and so on, a process which can become a bit tiresome. Simple forward and back links to the pages either side plus a 'home' button for when you have finished would make viewing easier.
Apart from the collection of nice and hot comics you have very little else in the members' area; you are asked for your opinions in a poll and there are links to Pop Assistant for comments or problem reporting. You also have links to software and billing support and that's it. Mind you, the tour doesn't offer you anything else other than the toons and comics that you can download without restrictions so it's not misleading. It's just that the site is a little thin on the ground and a bit cumbersome to navigate once you have a comic open.
Bottom Line:
There is a small but good selection of fantasy, hardcore, gay sex scenes here that are well drawn and produced. Each page of a comic opens in the same window with no navigation so you will have to use your back button to go back and then click forward to the next page - actions which detract from the flow of the story. Apart from that, for the connoisseur of hardcore gay drawings and art work this is a great little collection.
VISIT Toon Guys NOW!
VISIT Toon Guys NOW!