Men Hard At Work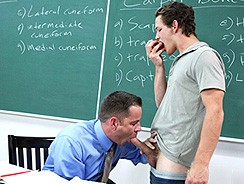 JUB Site Rating:
0 total vote





Men Hard At Work's Billing & Pricing
Men Hard At Work's primary billing processor: In House
Men Hard At Work's optional billing processor(s): Ccbill
3 - Day Trial Password - $1.95

7 - Day Trial Password - $4.95

One Month Membership - $24.95
(only 83 cents a day)
VISIT Men Hard At Work NOW!


The great thing about the three Suite 703 sites is that each has its own niche, sticks to it and produces good quality, well made, themed movies. Here's it's the turn of the boss to get his own back on the tight ass of the office junior, or visa versa in some cases. There are 20 movies so far all set in the office or the store room and all featuring an older hunk with a slightly younger stud in the making. In a couple of cases you're treated to three guys in a movie and in this case the action is simply hotter and harder.

These exclusives are easy to view as the site is strong on not only well made and erotic content but on well thought out design too. You can stream or download all the movies as full length versions or in parts and in five formats, including one for hand held devices. There is an edited down version too, for you iPod etc., so you can have a quick five minute office sex fantasy in your hand on the way to the office. You could even show that new admin guy the movie and see if it will get his juices flowing for you - the chances are it will.

Galleries accompany each episode and contain a varying amount of images; some have hundreds and they are all digital, good quality stills. Click one up to the full size image, 732 x 492, and the slideshow starts instantly; you can scroll though the collection manually as well. Saving individual images is simple but there's a zip file download option too.

You see? You get a good, well thought out and easy to use members' area when you join Men Hard At Work and you get good movies too. These include dialogue and good acting, yes honestly, and this leads to good erotic build ups making each episode more realistic and rewarding. None of that straight in at the ass fucking end of things; let the show run, build and take its natural course and you've got very fulfilling twenty to thirty minute scenes that will leave your nuts empty.

And just to top off this brilliant experience, once you are in the members' area you can also pop over to two other sites by the same producers that contain even more themed content, well made movies and totally hunky guys in steamy sessions. There's a new blog and a forum too so, as this builds, you'll have plenty of opportunity to get interactive.

Bottom Line:
Off to a flying start, Men Hard At Work and the other two sites you can enter with your membership, are set to become some of the hottest porn around. The movies are well made, even the acting is decent and the guys are simply perfect. For office, jock, older on younger fantasies this is the place to come. You're guaranteed quality and a great time, you get value for money and the simple, no frills site does not disappoint.
VISIT Men Hard At Work NOW!
VISIT Men Hard At Work NOW!