Straight Naked Thugs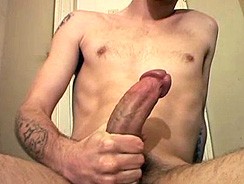 JUB Site Rating:
1 total vote





Straight Naked Thugs's Billing & Pricing
Straight Naked Thugs's primary billing processor: Verotel
Straight Naked Thugs's optional billing processor(s): Netbilling
$24.95 For 30 Days Recurring
$19.95 For 7 Day Trial Then Converts to Recurring
$29.95 For 30 Days Non Recurring
VISIT Straight Naked Thugs NOW!
What you do is this: you go out and find real streetwise straight guys from 'da hood', you tempt them with some cash and bring them to your studio or location and then you simply let them get on with it. The solo and action gay sex I mean. And what you get is an upfront and honest set of videos and pics featuring real guys from out there on the streets. You don't dress them up as porn stars, you don't pretend that they are anything but ordinary skater boys and thugz and you don't get them to act. What you end up with is a totally real and horny experience and a site called Straight Naked Thugz.
All of the guys here have a raw and believable edge to them which puts this site over the heads of many other gay adult sites that aim for the 'straight thugz' niche and miss. For a start they organise their guys into various categories of thugz: you have your Fresh Thugz - younger lads who beat off solo in urban environments or with a straight mate (and sometimes with a girl), there are your actual Street Thugz with their juicy straight dicks and even some bondage action and then you get the top of the range Alpha Thugz: the cream of the rough crop with their hard attitude and even harder boners. Each of these sets of guys comes with their own galleries and on top of the sex movies you also get some behind the scenes chat and filming too.
For vids you need to go to the Video page where you can find 28 exclusives so far - it's quite a new site but has already hit the ground running in terms of content numbers. The videos are available to stream or download in QuickTime and all you have to do is select a horny thug and choose your viewing option. Considering these guys are your average Joe who hangs out on street corners, rides his skateboard and wears his pants half way down the back of his legs, they know how to play with their cocks and do pretty good impersonations of porn stars. You get a great mix of solos and couples in the videos (and in the galleries) but don't expect too much of that 'straight buddy helps out his mate with a BJ' set up - these guys are real and don't really want to play with another cock, though they don't mind jacking off next to each other on the sofa and taking a quick look at what their buddy is doing - just to help the fantasy along.
You get the idea now? Real straight guys from the street, appearing in their casuals, giving it some attitude, jerking their cocks for the camera and shooting loads of straight thug jizz. Rough and raw in its content but not in its presentation - the filming quality is great, the images are good and the site is nicely designed and easy to use.
There are a few extras to go along with your package too: A model index that's arranged alphabetically with face pics of each guy, a search engine to find keywords and names, an 'add to favourites' function so you can personalise part of the members; area and two new areas: one dedicated to the vids and pics that feature two guys together and one that explores 'arrest/cop-shop' fantasies with line ups and strip searches. There is also a link over to the Bonerama store where you can order hard copies of thug style (and other) DVDs.
Bottom Line:
We like this site 'cos it's down to earth, knows what it's doing and keeps its promises. The guys are real enough and they all fit into the promised niche. The movie making is good quality the site works well with no technical problems and even the text fits in with the street style 'of da true thugs in da hood wat lives by the gang code.' It's new, fresh and exciting and you should hang out with it.
VISIT Straight Naked Thugs NOW!
VISIT Straight Naked Thugs NOW!