Lucas Kazan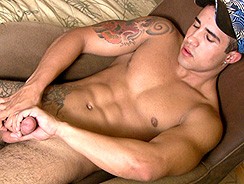 JUB Site Rating:
0 total vote





Lucas Kazan's Billing & Pricing
Lucas Kazan's primary billing processor: Paycom
$34.95
for 30 days
(one time charge)

Best Value:
$29.95
for 30 days
renews at $24.95


$64.85
for 90 days
(one time charge)
VISIT Lucas Kazan NOW!
Lucas Kazan Productions has been going since 1998 and they know what they are doing when it comes to good quality, gay porn. Why, their first production won an award and they have been going from strength to strength ever since. Now you have a chance to see some of their work at their exclusive site that features movies, galleries and 'Web Originals', precious scenes that you will only find in the members' area of this site.
Starting with those web originals you'll find something unique here. There are two scenes which were totally unrehearsed; two great looking guys (all the men here are stunning) simply get on with some uninhibited love making while the cameras roll. In this area you will also find audition tapes and interviews. The guys speak in their native language but the subtitles take care of that. I love it when you have subtitles; it shows that the guys making the movies care about the viewer. These 'behind the scenes' movies played in two sizes of Flash and QuickTime, streaming, and were perfect quality.
Over to the Cinema we go to check out the released movies. There were 16 hardcore titles here and six soft. View the covers to see the kinds of men you will soon be watching and you will find Hollywood looks, defined bodies, many smooth but some hairier and all stripped down and ready for action. Select your title and everything to do with that production appears on the next page: The scenes, the model index, the photos, trailers, interviews and behind the scenes footage. Again you have the two Flash versions and the QT version to stream in embedded players. This does mean that you can only watch one scene at a time - and not browse while downloading, but my advice is to settle in with a glass of wine and a box of tissues and treat yourself to some quality entertainment. Even the music, which fades in and out to make way for the dialogue, is classy and classical, the visuals are crystal clear and the scenes themselves well edited and shot in stunning, Mediterranean locations.
You can't download these films, so don't be greedy. You can view clips from them on the clips page where everything is cut into bite sized scenes. You can also click over to the galleries to find a great model index. Choose your hunky, studly piece of sex god and click to view his profile, stats and links to appearances. Nice and easy - the whole site works as smoothly as a well lubed cock in a well used ass. Individual images open to a decent size, not huge, not small, and these can be downloaded and saved to your personal collection. Don't forget that in here are not just the released scenes and behind the scenes footage, you also have many solo scenes to stream too. Check the top navigation menu (don't confuse 'Home' with 'Members Home', you want the latter) for all your pages and options and, if in doubt, simply return to the main members' home page to select which part of the site you want to go to next. If you have any problems there is a support page and members' can also leave comments about anything on the site.
Bottom Line:
Top class porn at its best. This site no only brings you stunning guys in well made, excellent quality movies but it lets you get behind the scenes too. There is plenty of information about each model and each movie, and thousands of images. But it is the sheer beauty of the productions that lifts Lukas Kazan high above the heads of its competitors.
VISIT Lucas Kazan NOW!
VISIT Lucas Kazan NOW!