Gear Action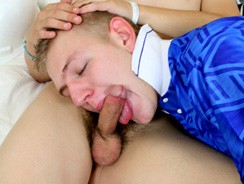 JUB Site Rating:
0 total vote





Gear Action's Billing & Pricing
Gear Action's primary billing processor: Dhd Media
By Credit: Get Your $7.95 Trial, or get 30 days for $19.95!
By Check: Full Month Access Just $24.95 - renews, cancel anytime!
Plus Free Bonus Sites!
VISIT Gear Action NOW!
Stop! Looking for hardcore, gay porn with a costume bent? Then look no further. Gear Action is all about sex in and out of uniforms, sportswear, masks, helmets... gear basically. It's action in gear and it's got its act into gear in terms of delivering on its promises. Boys in football gear, cadets in their uniforms, doctors, snowboarders, cowboys, firemen, young wrestlers, (yum!) and many other kinds of gear wearing guys are on show here in movies and galleries that will leave you sweating and wanting more.
There were 37 video episodes listed on the members' main page with the same amount in the gallery area where you'll find the images from each of the hot flicks. I went straight to my rough wrestlers, of course, and - after entering my username and password again - found a streaming version, a download link and a set of images. Around this was built a good text description of the scene to come. The Flash Player 9 streamed immediately I clicked it, it was a good sized screen and just fine in terms of quality. So the two cute guys started wrestling and that lasted for, oh, seconds before the kissing started. The gear stayed on (more or less) during the oral scene and a pair of shorts made it through to the cum shots after the anal - so we're not losing sight of the main niche here; the gear. If you like what you stream then you can download the .MOV version; files sizes are not cumbersome and don't take to long to reach you. Mind you, when I was streaming a particularly hot fireman scene I did get stuck on the page and couldn't get home while the movie was running; I was forced to watch the whole sexy episode damn it!
Nipping back to the home page I scrolled down to check out the kind of gear wearing guys you can expect to find. There are white, black and Latino boys here, older men with shaved heads, hunks and twinks alike so a good mix of believable looking athletes, firemen etc. There's a certain amount of what you might call harder fetish to view with mask wearing, tubes and feet that simply add to the variety. Someone's put a bit of thought into these episodes and there is a good mix of duos, threesomes and more, as well as varied locations. The gear is also varied - as you may have gathered - and most of the time the content is believable, so fantasies are well and truly played out in a realistic, horny and rewarding way.
As for updates, these appear regular, around one every two weeks judging by the dates and when you consider the low price of your membership that's pretty reasonable. What's coming soon is announced on the home page where you will also find a variety of extras including some feed sites and advertisements for a VOD site. Gear Action is easy to navigate around as there is not a huge amount of content there as yet, the galleries come with navigation buttons, there is a site map and a support page with contact info and FAQ.
Bottom Line:
It's new and original with a great variety of costumed sex going on. You have sexy guys including twinks and hunks, some well made videos and good quality photos and regular updates. It's not heavy on content as yet but hopefully will keep to its regular update schedule and there's nothing disappointing about what you get as a member. Some extras like a forum, search options (when the site is bigger) and maybe even members own pics would enhance what looks to be a very promising, gear wear, fetish site.
VISIT Gear Action NOW!
VISIT Gear Action NOW!