Hot House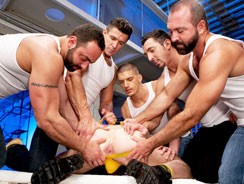 JUB Site Rating:
0 total vote





Hot House's Billing & Pricing
Hot House's primary billing processor: In House
1.00 for a three day trial, recurring
14.95 monthly membership
34.95 for three months
99.95 for one year
VISIT Hot House NOW!
There are so many good things to tell you about Hot House and Hot House Backroom it's hard to know where to start. Should I begin by telling you that there is an extensive collection of exclusive videos to view? Or by saying that you can also access the Club Inferno Dungeon? Perhaps you will want to know about the fit, tough and horny men who appear here or the hardcore sex? Maybe it's the easy to use search and sort options that appeal to you, or the neat design and regular updates? Or maybe you're into blogs and want to know about the workings of a top class studio?
I know what you want to know first: what's the sex like? Well, what kind of sex do you want to see? There are 34 themes listed in the Themes drop down list, everything from anal to wrestling and big cocks to watersports. Or you can browse through all the titles and scenes which are listed with good sized images of the stars appearing in them. Whatever you choose you will find a streaming Flash version of the scene and this pops up and starts to run almost straight away. The image is clear, the sound is a mix of natural with a subliminal, musical soundtrack and the quality remains high even when you click up to full screen. Here you have toned and hunky studs meeting up in various locations - locker rooms, gyms, at work, and very quickly getting down to hardcore oral and anal scenes that are second to none.
When you've found something you like you can add it to your favourites collection which makes it easy to come back to the next time but it's just as easy to start with the monthly updated episodes, starting back in March 2007 and work your way up to date with the exclusives. There are three, four of five new releases every month so you can see that you are not only in for good quality content but lots of it too.
And I mentioned the Dungeon; simply click over to that partner site for more extreme hardcore and fetish content where you will find plenty of hard guys in leather, bondage and other fetish scenes. The exclusives are also listed by title so once you have stumbled across a scene from a movie you can easily find the rest of the scenes from that title and view them. Actually the whole site is easy to navigate and move around and the only reason you might get lost is because you will be distracted by someone and want to follow his exploits. If that's the case you can use the drop down list of stars and click over to all your number one favourite's appearances.
But, the good search and sort options aside, it's the men of Hot House Backroom who are the main draw here. You might recognise some famous names but even if you don't these hot guys will soon be on your list of must see favourites. And then, if you want to know even more about them and their movies don't forget to check the regularly updated blog that brings you the inside news on the studio, the gay porn business and comes complete with hot and hard images too.
Bottom Line:
You really can't fault this site/production company for quality. The videos are top class, the guys are some of the hottest you will see and the site(s) are so well put together that the porn just pours out for you at the simple click of a button. Everything technically works well and smoothly, you are kept up to date with news and what's coming next, the tour promises are well and truly kept and the whole package is outstanding value for money. Don't expect skinny European twinks in poorly made movies here; only expect the best as that's what you get.
VISIT Hot House NOW!
VISIT Hot House NOW!