Fleshjack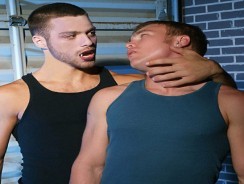 JUB Site Rating:
0 total vote





Updated: 2015-02-13
Primary Categories: Gay Shopping
2 Galleries
Currently No Videos
Fleshjack's Billing & Pricing
Fleshjack's primary billing processor: In House
$69.95
VISIT Fleshjack NOW!
The undisputed leader in male jackoff sleeve love offers everything from porn star penis and sleeve molds, to completely customizeable fleshjacks and fleshlights. Click our link for JUB exclusive deals!
Well, Fleshjack.com is a site that's not only there to supply us with this great toy; there are all kinds of interesting and sexy things going on at the site, which is at the end of the day, a shop. But it's a shop with other toys, lubes and interesting things to browse too. As for the Fleshjack itself: it has a "soft, pliable, non-vibrating Real Feel Super Skin® sleeve [and] is made from a patented, high-quality material designed to replicate the sensation of penetrative sex." It's about 10 inches in length and it's not a vibrator; you can use it in the shower or the tub, it's waterproof and easy to clean, you don't have to take it for walks, and you only have to feed it dick from time to time to keep it, and you, happy.
That's a basic outline; and now for some really fun stuff: Checking through the Fleshjack site you'll find the fabby Visconti Triplets endorsing the product in the 'Fleshjack Boys' area - there's a short Flash trailer showing you how to use it. And then you get to choose a Joey's Butt or a Jimmy's mouth version and, to complete your fun, there's a life-size Jason's Dick on offer too, so you can sit on one triplet while fucking another.
(Not sure what you do with the third, invite a buddy over maybe?)
You've got offers on buying all three toys together plus Visconti DVDs to make your day complete.
But if you don't want a standard, off the shelf model you can design your own. There are two colors to choose from, and you have an orifice shaped like a Mouth, a Jack Ass, Bottom or Closet
(not a cupboard but, I guess, a tight ass)
. There are seven textures including ribbed and 'speed bump' and you can also select the colour of your handy carry-case. There are images showing you samples of the textures and the whole package comes at you for $69.95 - check delivery and postage options as costs for as these may be extra.
Now then, do you want a really silly thing for a gift? Actually it's not sully it's camp. Count Cockula is billed at the "Flashlight with bite" because... yes, it's got fangs. A real 'must have' for every sexy Halloween party, and the page here that advertises it gives you a gallery of sexy guys showing it off - that's worth a visit to the site in itself. There's a cross section view on the page and the price is $44.95.
As you work down the pages at
www.fleshjack.com
through the left hand menu, you not only get to see interesting and fun toys and sex aids, but you also get to see some horny and fun to view guys using them too. In fact the site is worth a look just for the way it's designed and laid out - which by the way, is good and classy. It's easy to use and shopping there is secure, we're told.
Bottom Line:
As far as the site goes it looks great and is easy to use. As far as the actual product... well, you're going to have to buy one and test it out for yourself. The testimonials in the site suggest good customer satisfaction.
VISIT Fleshjack NOW!
VISIT Fleshjack NOW!