Xxl Cock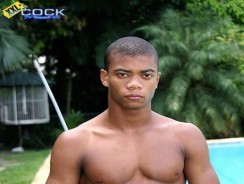 JUB Site Rating:
0 total vote





Xxl Cock's Billing & Pricing
Xxl Cock's primary billing processor: 2000 Charge
$29.95 for 30 days unlimited access
$69.95 for 3 months unlimited access
VISIT Xxl Cock NOW!


But what about the cocks, are there really some big ones here? Well, yes there are but there are also a lot of large ones, medium sized ones and good old average ones. It's not like being in a chat room where every guy you chat to suddenly has an eight inch dick, and you think he might be making it up... Here you get to see the meat and judge the size for yourself. There were around 100 videos when I viewed the site and each one was available as a download. (There is no streaming function at the moment but there should be one in time, we are told.) Each video comes with a thumbnail and a short write up so that will help you decide which file to go for. They are large files though with scenes lasting for up to 25 minutes and playing in a high quality format. For example I found some Windows Media Player movies that were 640 x 480 running @ 1.7 Mbps and a MPEG one that was 720 x 480. If you are on a fast connection speed you will be fine - if you are on a slow one you can download the vids while you do something else. At least when you have them they are yours to keep.

Some of the videos have made appearances elsewhere and it's only fair to tell you that these are not exclusive videos. In fact the site content is shared with all the sites in the Gay Key network so once you have joined one of their sites you don't need to join another. But that's good too because it means you can browse around all of their content and enjoy all kinds of hot sex videos. And galleries of course, there are 110 on XXL Cock alone and the images there are a good size - well they need to be in order to fit those big dicks on the screen.

But don't think the site is only about guys with big dicks, it's not a 'specialist' site in that respect though it does deliver on its promise of offering you vids and pics of guys with extra large dicks. Like I said before there are others that are more average in size and there are plenty of hard-core two and three way sex scenes too. So it's not just hung guys flashing their meat here.

And as for those extras. You have three bonus sites and a new one (Gay Blind Date) coming your way. You simply click a link to access the members' areas of these sites which have a reality feel to them. There is also access to the rest of the Gay Key content plus a set of 100 short clips, a daily changing set of scenes in various genres, links to pay per view theatres, stories, bonus galleries and regular updates. What more could you ask?

Bottom Line:
XXL Cocks does feature some interesting images and movies that have well hung guys in them. There is enough promised content to keep you satisfied though it's not particularly exclusive - at least not to this site. The content is shared across the Gay Key network but you can access all of it and the material on the other sites in the line up too - so you get value for money.
VISIT Xxl Cock NOW!
VISIT Xxl Cock NOW!