Latin Studs Mania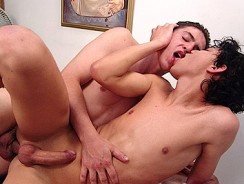 JUB Site Rating:
0 total vote





Updated: 2009-04-07
Primary Categories: Latino
Latin Studs Mania's Billing & Pricing
Latin Studs Mania's primary billing processor: In House
$29.95 one month full access, with recurring.
$34.95 one month full access, non-recurring.
$59.95 three month full access.
VISIT Latin Studs Mania NOW!
It's hard to resist the charms of those sexy Latin boys and it's nearly impossible to resist the charms of Latin Studs Mania with its exclusive videos, fabulous image galleries and oh so sexy Latino guys. A quick tour will familiarise you with what you can expect to find but if I were you I would simply dive straight in to Hispanic heaven where you will find Latino strippers auditioning for 'parts' in hoard-core porn movies.
Which is exactly what I did and, when I had slid easily into the members' area, I went straight to check out the videos. The good thing about these pages is that you get a decent amount of information before you view a movie. There is a short description but nothing too over the top or lengthy, there is the guys' name, how many videos he is in and the date it was uploaded. And then there is a juicy pic of the handsome stud himself. And they are all handsome so your only problem will be deciding who to view first. There are 37 guys spread over the seven pages and, as you access videos by the star, I guess the video pages are more of a model index - although there is also an actual model index with links to each guys' pics and vids.
Anyway, choose your guy and off you go. A new page appears with your viewing options. When I was in the site the movies streamed in WMV format in their own embedded player at 640 x 480 @ 1.29 Mbs so the buffering may take you a while if you're on a slow speed.
(Worth it in the end though!)
I was also told that there would be a Flash version 'coming soon' so that may be better for you when it gets here. I have to say that the standard version took a while to start on my medium connection and I daren't try the High Speed version - I'd be there all day!
Instead I checked out the photo galleries and found 37 of these. They take you through each guy's jerk off scenes nicely with clear images at a decent size. You can't download them, the function is disabled, but they are easy to navigate and view.
(Click a thumbnail and the whole page refreshes.)
I almost missed it and I was wondering if all the content was solo work, when I found the link that says 'hardcore'. (Top menu on the right.) This brought me 16 videos that were action all the way. These were quicker to stream being 320 x 240 @ 512 kbps is the standard screen and ran for around ten minutes. I don't know if they were exclusive or not but they weren't necessarily Latino themed. A good little set of hard-core scenes though that appeared to be in some kind of widescreen view. They were good quality but, like the main content, there was no way to enlarge them to full size.
Finally I have to mention your Naughty Cock Pass. This page links you to three other sites where you can access the members' areas with your login details. Here you'll find Moro the bodybuilder's personal and erotic site, premium membership access to a dating site and access to Naughty Hard Cocks itself where, we're told, some of the guys from Latin Studs Mania actually get it on with each other.
(These are the guys who passed their auditions I take it!)
Bottom Line:
Apart from some slow buffering (depending on connection speed) the site ran smoothly and well. The guys are hot and even though I only found solo jerk off scenes these were worth the time it took to view them. There is some hard-core and then there is access to the bonus sites so all is well in the end.
VISIT Latin Studs Mania NOW!
VISIT Latin Studs Mania NOW!