Flava Men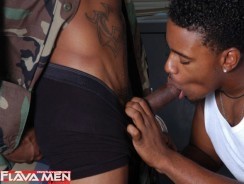 JUB Site Rating:
0 total vote





Flava Men's Billing & Pricing
Flava Men's primary billing processor: Ccbill
$14.95 per month
VISIT Flava Men NOW!
Flava Men Magazine has long been a favorite for showing off the hottest Black and Latino men on the planet. And while many of us still love the look and feel of a paper magazine, being able to carry it with you everywhere you go without the need of a laptop, the feel of the pages turning under our fingers, colorful photos you can lick without the fear of electrocution... there is so much more fun to be had going beyond the limited number of pages given in a monthly skinrag. So the horny fuckers who bring you the Flava Men Magazine have put together a website that starts with the content of the magazine and then offers you so much more.  
I usually keep the current issue of Flava Men in my man bag and yes, I do read the articles. Going to the website I can read them all online and easily go back to previous issues. And who doesn't love the hot photos? But you can't watch a video in a magazine, so I find myself jumping online every chance I get to watch these sexy studs go at it. And what a nice change from a lot of other sites who give you mostly Caucasian guys with a few men of color thrown in for diversity. When I'm in the mood for some spicy Latino fire or the delicious bodies of beautiful Black men, I know I can skip the act of scouring other sites for a small handful of their models and go right to Flava for my fix.  
The video runs in your choice of Windows Media and Quicktime, with an HD feature that looks amazing! And the guys are all so damn hot you'll have a hard time pulling yourself away from the computer when you're done.  
The only thing about the site that seems odd is the calendar section. For those of you who loved to have a Flava Men calendar on your wall, you could go right to the profiles of all the hot guys who you drooled over month after month, but clicking on the calendar section you'll only find the calendars running up to 2007. However, digging a little deeper I found a real treat. Under the free section, along with a lot of cool free goodies, there's a monthly download that puts the beauty of the Flava Men calendar right on your desktop.  
There's a lot of freebies on this site, which is really nice. Everyone loves to get something for nothing. But really, if you like Black and Latino men like I do, you'll never be satisfied with the free content. A monthly membership is affordable and gets you a whole lot more of these incredibly sexy men of color.  
Bottom Line:
Incredibly affordable and chock full of extras, Flava Men is a perfect extension to an already classic magazine. And for those who are big fans of Black and Latino men, this collection is first rate.
VISIT Flava Men NOW!
VISIT Flava Men NOW!