Naked Straight Lads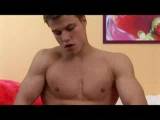 JUB Site Rating:
0 total vote





Naked Straight Lads's Billing & Pricing
Naked Straight Lads's primary billing processor: Ccbill
30 days for $29.95
VISIT Naked Straight Lads NOW!
There are some very cute looking lads on the tour of this site and what's even better is that when you log in you find them straight away. I don't now if they really are straight or not but frankly my dear I don't give a damn - they're hot! There's a certain mount of that 'straight goes gay for pay' material promised here which is always fun and there's also so bisexual content too, plus solo scenes and straight boys experimenting together.
I started at the members' home page and worked my way down the menu to see exactly what was on offer here. First of all I came to the Solo Photo sets. There were just under 100 of these and the guys were more from your teens and twinks camp than from the rough and straight one. These are not all exclusive photo sets (some may be but I know that others aren't) and I recognised a few old favourites who I've seen on other sites. But they're sexy, young lads that's for sure. There are some great shots in here with each gallery having various amounts of pics at various sizes. You can rate each one and add things to your personal favourites as you go.
There were 14 duo (and trio) sets, again with various amounts and sizes of images. Again this is not exclusive content and there's no way of knowing if these guys are really straight or not. There are 16 movies in the Video Sets area and, at first, I was confused. I thought that this was a set of pictures as each thumbnail and description read '1image'. I clicked it and got the same image on a new page and it was only when I clicked that - for the hell of it - that I discovered that it was a downloadable video. Silly me! Watch out though as some are MPEGS in large files and the site downloads the file while you wait on the page, without telling you. The WMV files present you with an option box so you can download and then go off and browse some more while you wait. File sizes vary as does the content, there are solo sessions and some bi-sex action in here too.
Naked Straight Lads comes with an alphabetical model index where you can link to all of a sexy boy's appearances, select a letter and see who you get. There are also erotic short stories in the Stories area, I counted 22, and there was a straight doing gay sex theme running through many of these. Beneath this in the menu were the results of your voting, and that of other members, with the top rated boys appearing on one page and then there was the support page. Lower down still and you have the favourites area, yours and everyone else's with the highest rated sets and pics. Click back to home for the latest update news and a quick peek at what's coming next. Getting around the site is easy, there's nothing complicated or misleading about it and the design is nice and simple too.
Bottom Line:
I'm still not sure about the 'straight' of the title but these lads are definitely naked. They're also young and cute with the emphasis on the teen to twink range. I can't be sure about exclusivity either, I know some of the guys and they appear on many other sites but the others? You'll have to judge for yourself. More content would mean a higher rating from me but what you have is good quality and sexy - if you like smooth and hung younger guys who might possibly be straight.
VISIT Naked Straight Lads NOW!
VISIT Naked Straight Lads NOW!