Stud Sex Tour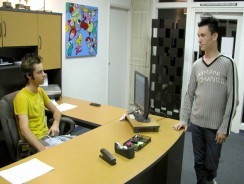 JUB Site Rating:
0 total vote





Stud Sex Tour's Billing & Pricing
Stud Sex Tour's primary billing processor: In House
3 Day Trial, Credit Card, $2.95
Monthly Pass, Credit Card, $24.95
3 Day Trial, Check, $2.95
VISIT Stud Sex Tour NOW!
Some strange things happened when I logged in to Stud Sex Tour... First of all I came to a home page where the recent updates were featured, but these were last updated several months before my visit. I checked the bonus sites page to find a collection of feed sites, and then went to the DVDs area. This led me to All Axxxess, a place where you can find a load of gay and straight porn. So, checking this home page (after entering my username and password again) I finally found a collection of hot gay DVDs to view.
Ok, all well and good, but these were only part of a much larger site and the rest of it was straight sex. So all the categories listed on the left menu were many and varied, but all apart from 'gay' were straight subjects. So I concluded that what I'd entered was a generic porn area where the gay section is only one part of a massive collection. Not exactly what the tour had led me to believe I would be getting, but a whole load of porn for my bucks. So taking the rough with the smooth, as it were, I delved further.
My first set of suggestions were the 'Top gay scenes' followed by the 'Today's hottest gay scenes' so perhaps they change these thumbnails daily. But there was a little top menu again promising DVD Videos, and clicking this took me back to the login page again, and then on to - or rather back to - the All Axxxess main page I'd already been to - with some very graphic shots of ladies' privates. Oh dear. Ok, so clicking the videos link yet again and getting back to where I'd already been, I went for the 'More gay scenes' at the bottom of the page. Finally I found a list of over 2,000 scenes and really started to look around.
What you have here are small thumbnails showing you faces or action from the scene, the start of a short description and then a link to the scene itself. These are arranged in no particular order and there are loads of pages to click through, so you're going to have fun finding what you want to see - though there is a search engine. Choosing one movie I found it arranged in a standard and sensible way with a title, description, details and links to stars, just like you might find in a video on demand theatre. And deciding on a scene, as each movie was arranged by its component scenes, I found that I could stream or download in files suitable for dial up or broadband connections. The stream came in a Flash player that was pretty nifty, with thumbnails along the bottom and the ability to jump through the scene with the slider. It wasn't too big a screen and I could go fill size where even on the dial up version the quality was acceptable, though there was some start and stop.
After that scene I was in the mood for others but aren't risk clicking anything on the menu in case I got back to the straight porn, so I back-buttoned back to the index page and tried another one or two. I found the quality consistent, the streaming fine, downloads nice and easy and generally no disappointments with the movies: they are many and varied, though not exclusive, and will keep you entertained for many hours.
Bottom Line:
Once you get to them, you find a neat collection of hot, non-exclusive, gay movies here that are easy to stream or download. There is loads of variety though more search options for gay specific movies would be good. It's a nice collection though it is in there with loads of straight content, and you need to tread carefully to find it.
VISIT Stud Sex Tour NOW!
VISIT Stud Sex Tour NOW!