Cocky Boys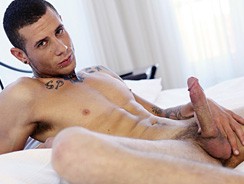 JUB Site Rating:
0 total vote





Cocky Boys's Billing & Pricing
Cocky Boys's primary billing processor: Ccbill
1 Month (Non-recurring) - $34.95 One-Time Charge
4 Month (Non-recurring) - $74.95 One-Time Charge
VISIT Cocky Boys NOW!
Coming at you fast and hard from sultry Southern California, Cocky Boys brings you the cutest boys with the juiciest cocks in a neatly designed site that looks as sexy as the boys themselves. And how sexy are those boys? Check the model index for a taste of the delights to come when you sign up and you will see what I mean.
Once you have signed up you'll find the members' area looks like the tour area so what you see is what you get. The great design continues but now you can view the tasty videos and other hot content in its entirety. I started with a browse around the model index to see who was here and found around 30 guys, none of whom I would kick out of bed for misbehaving. They range in age from 18 to around late 20s I'd say and are mainly good looking white boys, with a couple of Latinos in there too.
Each guy comes with an intro and his stats plus links to where he makes his appearance. I followed Alex to see what he had been filmed doing and found his movie: 'Eddie pile drives Alex' so we know what that one is all about. The movie itself ran in Flash Player 9 and the screen wasn't huge - though it will click up to full size. The quality was perfect, though I did have some jerking - and I'm not talking about me. There was a certain amount of start and stop but then I was running it at the lowest speed, 300 kbps - you can choose from three with 700 being the top. The action was just fine with some dialogue to start but nothing corny, the guys soon got down to the hard-core and the full length movie was totally satisfying. There are 21 such movies on the site so far, with more on the way, according to the update news. You're in for mainly couples in action but there are some hot solo scenes too.
The photo galleries that come with each video provide you with decent sized images, 720 x 480, from the movie. They come from the movie camera but, because it's a high resolution one, they are not too blurred as some screen-caps can be. The galleries give you the quality shots only and so aren't very big on numbers, with around 30 pics each. That's fine by me, who wants hundreds of frames that are all the same? I'd rather have these quality pics any day.
If you want to find out more about these sexy boys then check the Interviews page where some of the models chat on camera, or you can also view the blogs. A couple of the guys are keeping an online journal and you can read about what they have been up to over the past months. There are archives going way back and there you can find out about the making of the site too. Over in the VIP section you will find some free wallpapers, some extra footage (I assume of scenes they decided not to use, and then did?) and five feed sites. These are mainly young guy themed and are five of the better ones available at the moment.
Bottom Line:
It's sleek, sexy and great to view. The content is well made and easy to access, navigation is simple, there are links to the software needed in case you don't have it and you feel well looked after. But it's the boys, their videos and their diaries that stand out in my mind and it is them that make this site so special.
Keywords: Cocky Boys, CockyBoys, CockyBoyz, Boys
VISIT Cocky Boys NOW!
VISIT Cocky Boys NOW!