Latin Boys Club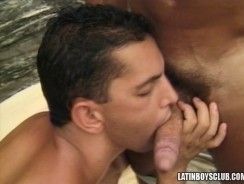 JUB Site Rating:
0 total vote





Latin Boys Club's Billing & Pricing
Latin Boys Club's primary billing processor: In House
$29.95 30-Days Membership renew every 30 days
$59.95 90-Days Membership renew every 90 days
VISIT Latin Boys Club NOW!


The videos of these 'hot blooded stallions' numbered 15 when I was in the site - three pages of five exclusives per page. But don't forget those updates; there will probably be more content when you visit. Each of the movies is available in two speeds/qualities and then divided into a suitable number of parts with a full scene version available in the high quality connection speed. You have WMV files at 800 kbps and MPG files at 650. Low speeds are WMV at 56 and 128 kbps and 350 for the MPS. There, that's the technical stuff - what about the content?

O.k., page one: three outdoor scenes and two in the bedroom: A couple of sexy guys in each with some interracial action as well as some 100% Latino sex. Hard-core anal and oral scenes, sensitive and erotic set ups and good quality filming and editing. So far so good. Page two: a similar arrangement but with a uniformed scene and a three way in the collection too. And page three, four outdoor and one inside location with plenty more big dicked Latin guys in hard-core sex scenes. All fully downloadable and easy to access. And each 15 to 20 minutes movie comes with a link over to an image gallery where you can download the 720 x 480 video caps as zip files.

So, a decent collection - if a small one - of hot and exclusive Latino guys in well made videos. Over time I assume more will be added and, for lovers of Latin lovers, this is a good place to come to. But there is more. The main menu is made up of the Videos and then five other links. On the Home page you will find updates about the Latin Boys Club, a poll and an advert. On the Bonus Sites page you will discover links over to ten other members' areas that your login details will let you access. These sites include the rather hot Twinks Boarding School and the new fetish site Twink Clinic where more exclusive and well made content is waiting for you. These sites also include some more Latino guys and they are not all twink sites either. You have Crotch Buffet and Handy Studs, for example, where you will find older and more butch guys, and there is even a bisexual site to dip in to.

As for the rest of the links on that top menu: The Friends page is really a collection of links and suggested shopping opportunities, the Support page is a well thought out collection of helpful FAQs and links and the Network Update page is where we came in with update news about all the sites in the network you are now a member of.

Bottom Line:
Yup, there are some hot Latino guys here and the quality of their vids is great. Video caps for galleries aint so wonderful but I'm not complaining simply because there is so much content - when you include all the sites you can access - and the Latin stallions make their appearances as promised. As usual more niche content would mean a higher score but I'm giving this site a four because, though there are only 15 exclusive Latino vids, there are masses of other hot content too.
VISIT Latin Boys Club NOW!
VISIT Latin Boys Club NOW!