Young Hot Latinos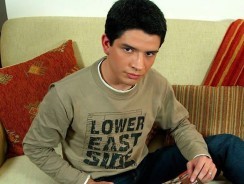 JUB Site Rating:
0 total vote





Young Hot Latinos's Billing & Pricing
Young Hot Latinos's primary billing processor: Paycom E.u
29.95 for 30 days
69.95 for 3 months
VISIT Young Hot Latinos NOW!
It's time to get exclusive over at the Gay Key network where their latest site, Young Hot Latinos, is sizzling onto the net with a great line up of sexy Latin boys. The content is well suited to the red and flaming design of the site which is fun to use, packed with content and brimming over with bonuses.
But it's the Latino boys we want to see and you'll be wanting to know how they measure up so, taking the members' menu in order I went first to the photos. There were 44 galleries here, (the site is still quite new to the scene,) and each one comes with a thumbnail and description before you click to the main pages. Each of the decent sized, square thumbnails clicks up to a full size image and the ones I found were 640 x 850 in size which is just about right for easy viewing. The quality was great with proper digital shots and good looking guys. Each set contained around 100 images, some with more and others with less, but I thoroughly enjoyed them all. The guys range in age from 18 upwards and there is a good mix of solo, couple and group action scenes.
Clicking over to the videos area you will find over 50 movies to enjoy and this is also where you find the exclusive content. As well as non-exclusive scenes you have some that are now produced in house so there will be guys here that no one has seen in action before. Like Ernesto the latest cute guy to hit the site. He performs in his own solo movie while other guys get involved in action scenes elsewhere. You have a good mix of guys here with smooth and young looking ones, older and tattooed guys, twinks and bear cubs and at least one Latino guy per scene as there are interracial movies too. Each of the movies is available as a download and you'll need to unzip the file when you get it. There's information about how to do this on the support page if you're not sure. There should be a streaming Flash version coming along in due course though.
And if you want to stream something online then there are many other video options on the site but they are not necessarily Latino flavoured. For example there are 100 quick clips from the movies and 59 feed sites, two of which are Latino themed. These open in new windows and they each have their own style of presentation, players and content. It's all included in your Young Hot Latinos membership fee though. There is also an area called Wank Addicts Daily Videos where you will get a new clip every single day. There are 18 genres here and a Latino one is included so you will have a new, short clip each day for as long as your membership. These come with links to the site that provided them so if you want to view the whole scene or buy the DVD you will be able to - for a price of course. There are also links to live shows and pay per view theatres but again you will have to part with more money to enjoy these.
But included I your membership are stories, a set of twink galleries from BoyCampus and links into four reality, membership sites. You can view all the exclusive content at these four which include Twinks for Cash and Gay Blind Date.
Bottom Line:
It's great to see some exclusive Latino movies and to know that more are being added regularly. There is a great set of extras and bonuses here too which gives you good value for money. The quality throughout was great and everything worked as it should. I've seen bigger Latin sites before but Young Hot Latinos is definitely well worth a visit.
VISIT Young Hot Latinos NOW!
VISIT Young Hot Latinos NOW!