C1r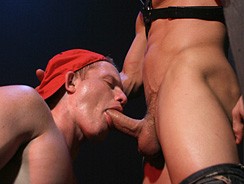 JUB Site Rating:
1 total vote





C1r's Billing & Pricing
C1r's primary billing processor: In House
$24.95 - Monthly
$59.95 - Quarterly
VISIT C1r NOW!
It took me a while to get the hang of C1R, there is such a lot on offer here. To find out exactly what you are paying for it's best to go to the join page. There you can see that you have two choices of membership. There's a free package of certain goodies but the premium membership
(which is not that expensive)
brings you loads of bargains such as: discounts on the video on demand area, discounts on bought DVDs, five free movies a week, no limits on rental times, and exclusive live shows. So whatever reason you join for you're going to get well treated and save money.
But what's it all about? Well, it's the home of Channel 1 Releasing a large porn and entertainment company form the USA, with world class drag star Chi Chi LaRue at the helm. The company makes its own movies and you, as a member, get to see these before anyone else. You also get to access the live shows and their archives with hundreds of hours of fun and horny, solo and action shows from the likes of Dirk Yates Live. That's a site you can join on its own but by signing up at C1R you get into it as part of your membership.
And you get to see five new and different movies each week. That's one per every working day, so you really don't need more, especially as these are full length and exclusive. They are guaranteed to be hardcore too.
The best way to move around the site, once inside, is by using the 'explore' button. This brings you a list of everything all neatly laid out in a logical order. You can click straight to the store to buy your DVDs and toys
(with that discount)
, you can click easily to the video on demand area for hundreds of scenes and titles, there is the link to the live shows and archives, and then a model index. This features exclusive models and others who have been through the hallowed portals of C1R's empire. Actually there were 5,862 guys featured here when I called in and they ranged from twinks to full bodied hunks, so a nice variety awaits.
You're told all about the company and the studio, what's going on and what's hot in the various blogs where you can follow Chi Chi and her team around. You'll find out where and when these hunks are appearing live, and you can even go and see them in the flesh. But apart from all this content, these perfect porn stars and the studio news, you can also click over to the Members' area. This is where you find those weekly videos.
These, when clicked, start to stream in a Flash player and they come with a trailer if you want to check them out before you settle down to the whole movie. The neat thing here is that the player will choose your quality for you. It somehow works out what's best for your connection speed and starts to stream immediately. If you find, as I did, that it had chosen a lower quality than you wanted, you can also override it and choose your own. And there are markers on the timeline so you can jump to the next scene or back to the start. And, it almost goes without saying that you get good quality, hot and varied porn movies here.
Bottom Line:
You don't have to be a fan of C1R to enjoy their site. You will find loads of neat things to see and read, there are five movies a week to stream, live shows with schedules and archives, and loads of horny pics of the exclusive models in the index. Bookmark this one as it's a place you're going to come back to regularly. One view and you're hooked.
VISIT C1r NOW!
VISIT C1r NOW!