Amazing Moro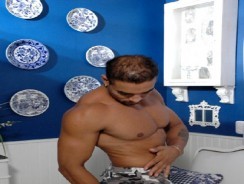 JUB Site Rating:
0 total vote





Amazing Moro's Billing & Pricing
Amazing Moro's primary billing processor: Paycom
$29.95 one month full access, with recurring.
$34.95 one month full access, no recurring.
$59.95 three month full access.
VISIT Amazing Moro NOW!
At Amazing Moro you get access to three hot sites for the price of one and they are all updated weekly, we're told, so you're in for value for money before you even start. But what's it all about? Well, according to his bio, Moro is a 29 year old Argentinean bodybuilder who is working for his physical educator's degree. Meanwhile, and to fund his college days perhaps, he has his site where you can not only follow his fitness regime and diet but where you can meet all his cool friends too.
When I logged in to his personal locker room of delights I found that he had 12 videos on offer. Many were of Moro himself and that's no bad thing I can tell you. If you're up for some tough looking Latino bodybuilder meat then you can't go wrong here. You can see this gorgeous hunk being 'naughty on the sofa' or working out, chilling at home or in the park. He appears in all manner if situations so there is little repetitiveness about the movies, which is something that I've seen happen on other bodybuilder-cum-sex-god sites.
I checked the latest video to get an idea of the viewing options for you. This one featured a cute guy called Rio and the movie streamed on line in a player that was 640 x 480 @ 1.09 Mbs. Also checking the first one on the list - the oldest, I found the same simple viewing option - one choice, to stream and at only one speed/quality - which was pretty high. The scenes I saw ran for a goodly ten minutes and there were musical and natural soundtracks. Standard fare maybe but it's the guys who make them hot - some more options, like a download one and smaller files for slower connections, would be a good move.
Working across the top menu will take you from the video collection to the photos. There were 18 sets here and each one was advertised with a good sized thumbnail. Click it to get to the collection and there you have a photo preview and 328 x 454. You can't click to open it larger
(at least I couldn't)
but you can download it, in this case it comes out at 532 x 800 - for example - which is a better viewing size. The images are well taken and good quality and there's nothing to grumble about at all - some more content would be welcome of course but you'll have to be patient.
Actually you shouldn't have to be that patient, I just checked the list of updates and these seem to be coming at you fast and furious. There's a good list on the home page and let's hope that the site just keeps adding and adding as the content is hot and horny and filled with sexy bodybuilder types. If you want to keep completely up to date then Moro has a diary on the go, a blog with pics that opens inside the main window and scrolls. Actually that's another nice thing about the site - the design is unique, to a certain extent. You get a different, hot, background pic per area and these pages load nice and quickly despite that fact that the picture is large and well focused/good quality. The other things happen effortlessly inside this main window and it all adds to your viewing pleasure.
Bottom Line:
More content will one day push this site to the top rating; meanwhile it's well designed, well laid out, easy to navigate and delivers on its promises. The vids may take time to buffer but they will be worth waiting for. Amazing Moro has a good personal site here with bonus access to others and plenty of information for guys
(and gals)
interested in bodybuilding.
VISIT Amazing Moro NOW!
VISIT Amazing Moro NOW!