Colt Studio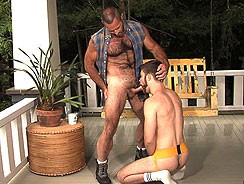 JUB Site Rating:
0 total vote





Colt Studio's Billing & Pricing
Colt Studio's primary billing processor: In House
$2.95 for a three day trial recurring
$29.95 for 30 days, recurring
$69.95 for 90 days, recurring
$199.00 for one year, non-recurring
VISIT Colt Studio NOW!
What you've got here is high quality, high definition, high octane content from one of the best known producers of gay porn in the business. Colt has been around for a long time and at the site Colt Studio Group you can get to view movies from its three sub-sites, Buckshot, Olympus and Colt itself. There are easy navigation tools, category lists and various viewing options, plus information and sample images, galleries and a model index. You have a site that resembles a pay as you go movie theatre, with all the goodly information they tend to hold, but you as a member don't have to pay a penny over your initial sign up fee to view the stack of scenes in here.
Your main problem may be where to start viewing. You can check the latest updates on the home page. These had been regular but there hadn't been anything new in the four weeks before my visit, so I'm not sure what's going on there - in the past updates have always been regular. There are also top lists to help you select what to watch first, or you may want to use a category list. There are over 400 scenes to choose from so settle down and be decisive.
I started off with a high definition Buckshot scene which loaded immediately in a huge Flash player when selected. Beneath this were other options: to stream in three qualities, to view a trailer, screen caps and a button to click to take me to the store to buy the full DVD. Looks like these videos are protected in that you can only get to them online as a member. But that's ok, it's not a high price to pay for such muscle ripping and load blowing quality. Each scene runs for a good length of time too, around 30 minutes, and the Flash player lets you click through with the slider and jump around the action if you want.
There are other ways to view the movies, select the browse tab and you'll see box covers, classic Colt images of bears, hairy men in police uniforms, moustaches and then the smoother jocks and hunks from the likes of Buckshot, or the godlike bodies of the Olympus guys. You can also check the model index, 'Men' and find over 390 perfect guys with, usually, face and body pics to guide you. There are some guys straight out of a 1970s porn mag here, some 'was a twink until just now and now he's a jock' style guys, leather men, more bears and hunks, you name it Colt have got it. Click the guy who floats your boat and you get to his list of contributions. You can add scenes to your favourites area, and you can also easily search through the sparkling quality images in the 894 photo sets. Here the good sized images open individually in Flash, there were no other viewing options here but certainly plenty of choice and a huge list of categories to help you find your favourite kind of guy.
All around this perfect content and this vast stock of movies and galleries is a neat design, fast loading pages, good navigation and some interesting adverts and information.
Bottom Line:
The best of the best is here at the Colt Studio Group where they let members view their vast collection of hunks jocks, leather men, bears, movies and galleries for a very sensible membership fee. It's hard to add anything new to the wealth of great things that have already been said about this company, except perhaps: tour promises are kept, you have quality and quantity here, and you won't regret signing up.
VISIT Colt Studio NOW!
VISIT Colt Studio NOW!