Lucas Entertainment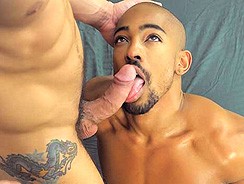 JUB Site Rating:
0 total vote





Lucas Entertainment's Billing & Pricing
Lucas Entertainment's primary billing processor: Ccbill
$24 for 30 days, then $24 recurring every 30 days
$39 for 30 days (non-recurring)
$74 for 180 days, then $12 recurring every 30 days
$119 for One Year, then $10 recurring every 30 days
$5.95 for 2 days, then $24 recurring every 30 days
VISIT Lucas Entertainment NOW!
The name Michael Lucas is so well known in porn circles, by both industry professionals and surfers alike. On the one hand, a review of his site, LucasEntertainment.com, seems almost unnecessary but on the other hand my expectations are so high I say, "Bring it... let's see what ya got!"
The first thing that hit me upon logging in to this site were the words "Class" and "Style". This is one gorgeous site. A tastefully elegant layout with a menu bar across the top making navigation as easy as it could possibly be. If you know exactly what or whom you are looking for go right to the top... of the page, that is. At the very top you will find drop down menues where you can search by model, movie title or fetish. And he covers everything from the tame to the extreme. If your like me and can't decide where to start, the menu bar divides everything up into easy to use sections for videos, photos, model profiles and more. The thing that impressed me most about this is that when you scroll over each of these headings in the menu bar you will also be given sub-menus so that you don't need to enter a section and go paging through looking for things. For instance, scroll over Videos and you can choose from the latest videos, a Top 10 list, audition videos from perspective models, production stills and more. I mean, when you've got your cock in one hand and maybe a toy in the other, the last thing you want to do is have to go searching through a whole site for some videos that you really want to see. Having everything right at your lubed up fingertips is worth the price of a membership alone.
And if you've ever seen a Micheal Lucas production you'll know without a shadow of a doubt that the men in his videos are HOT with a capitol H, O and T! And aside from being incredibly gorgeous, there are many different kinds of guys. Each one with that something special that makes them a Lucas model. And what good is having some of the hottest guys on the internet if your video is not up to par. Mr. Lucas treats you to streamed videos that are so crisp and clear you may forget you are sitting at your computer. I'm on cable DSL and the videos started up almost immediately and I never had any problems with the picture stalling or something not working right.
I'm a sucker for great content, but even when a site has great videos I'll be disappointed if that's all there is. Not the case here! There are so many perks and bonuses here you won't be able to see everything in a weekend. It's details like a News and Press sections where you can read about what's coming up, read reviews of his many videos and much more. Plus there's a great blog that not only keeps you up to date on behind the scenes at Lucas Entertainment, but also gives you some great insight into the man himself as he rants about politics and pop culture.
And if totally fall for one of the models, as I have with Ben Andrews, check out the model profiles so you can get a little bit of background info on him and then easily gain access to any streaming video or online photo gallery as well as a direct line to buy his DVDs at a very nice discount just for being a member.
Bottom Line:
The name Lucas Entertainment is synonymous with quality, style and incredibly hot men. Add to that a website that really easy to use with many ways to enjoy all the sexy beefcake and enough extra features that let you know more about the man and the company, and you've got a site that is well worth the price of a membership. Your best bet is to join for the year because once you're a member you're not going to want to cancel, so just do it.
VISIT Lucas Entertainment NOW!
VISIT Lucas Entertainment NOW!