Club Jeremy Hall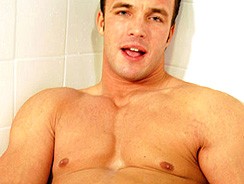 JUB Site Rating:
0 total vote





Club Jeremy Hall's Billing & Pricing
Club Jeremy Hall's primary billing processor: Ccbill
$14.95 - 30 days - Recurring
$24.95 - 30 days - Non-recurring
$49.95 - 90 days - Non-recurring
$99.95 - 365 days - Non-recurring
VISIT Club Jeremy Hall NOW!
Jocks with cocks is definitely the name of this particular game. Jeremy Hall is as fit and toned as you could ever hope to be, well hung and good looking too. He's clearly got a thing about keeping fit and likes to get his workouts in bed as well as in the gym; and he invites other fit and fuckable friends to join in too. You get a good feel for the content of the members' area by browsing the tour pages and, once you are inside, you have the same guys to view but now you can also enjoy the exclusive videos.
There were 22 vids when I was there and a good number of them featured Jeremy himself, with his smooth chest and rippled stomach - but his friends are just as sporty and just as sexy too. There are some solo scenes with Jeremy taking a shower, or knocking one off after practice but at least half of the video content to date involves one other young stud from the playing field. And that's the good thing about this site - it starts with a sporty/sexy theme and runs with it all the way to the end of play. Your videos take place in the locker room much of the time, or the gym or on the field and here is a sports connection in most in not all of them. Like I said, it's about jocks with their cocks but there's plenty of ass in there too.
Getting technical for a moment the videos are available in two qualities: 320 x 180 @ 247 for the smaller, quick to load but poorer quality and 640 x 360 @ 922 for the better quality - but slow to buffer if you're on a slower connection speed. You also get the chance to download the videos so you can save and keep them. Each one has a set of pictures with it; small-ish video captures that give you a flavour of the action to come. Some of these sets only have ten or so images as the main thrust of the site is towards the videos but you get to sample the sexy studs before you commit to a download so there is a purpose to them. Some of the vids also come with a little back story so you can read how the 'event' came about.
Navigating via the top menu can be a little confusing at first as this is one of those sites that has Home and Members and, when you are in the members' area, your home page is the Members' page - but you only click Home by mistake once before you realise that you're back out in the tour area. There is also a left menu which holds all the public and restricted links though and from there you can view the live show schedule and make a note in your diary. There wasn't much information when I checked this out, simply a date - no time or anything saying who was appearing live. You could also check your account details, contact support and even apply to be a model by using this menu but it didn't lead me to any more content. Mind you I was satisfied enough with the videos that I had found.
Bottom Line:
I'm wishing Jeremy well as I leave his site. Having checked out is journal I felt I knew a little more about him and came away with the feeling that the site is friendly as well as horny. He's got an eye for cute yet chunky college and sporty dudes and I can't wait to see more of them, and more of him, on his site.
VISIT Club Jeremy Hall NOW!
VISIT Club Jeremy Hall NOW!