Hard Working Stiff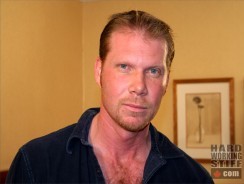 JUB Site Rating:
0 total vote





Hard Working Stiff's Billing & Pricing
Hard Working Stiff's primary billing processor: Unknown
$27.49 - 30 days - Non-recurring
$59.49 - 90 days - Non-recurring
VISIT Hard Working Stiff NOW!
Five years ago Brian Xander was chatting to some friends and asked them what they thought of seeing videos of straight and butch men jerking off. They loved the idea, he loved the idea and thanks to all that and his obsession for Canadian construction workers
(and others)
Hard Working Stiff was born. His guys are all working class men with rough hands and weathered skin, they are what you and I might call butch and, although they all look different, they are sexy in their own way and there is a mix of straight, bi and gay guys on the site.
The simple design, with the metallic background, continues from the tour and into the members' area. Your first page simply brings you 16 pics of topless and nude studs. And this is only page one of four, there are 50 such pics leading to 50 videos and picture galleries. Either start at the beginning and work through or select the guy who most turns you on and click his image.
I started off by sampling John, a 22 year old deck hand with a toned body and a great cock who puts on a really good show for you in the video and the accompanying picture gallery. Checking out the technicalities of the vids I found that I had the option to download a Real Player file and a Quicktime MP4 version for Mac, PC or iPod; left click and Save Target As to start your download. The files I tried were around the 40 Mb mark and the scenes ran for 10 to 15 minutes. I did try to see if I could cheat and start a stream by right clicking the links but this seemed to upset the page and I got stuck and had to close my browser.
(My fault.)
Back at the index of guys I then looked at James the 28 year old stable boy, Daniel the dog sitter and Joey the 31 year old security guard
(hot)
. All had the same viewing options and a set of screen shots. These opened in new windows at 640 x 427 and were a decent enough quality. They certainly brought you right into the action, up close and there are some very collectible images of these hard studs here, that's for sure.
The site does bring you a little more than simple solo jerk off scenes though these are enough to get you going. There are some guys who use toys and I even found a few couple scenes. In one the two guys jerk off together though they don't touch much
(straight I suspect)
but in another there is a full on bareback scene. The studs are mainly white or Latino and they're all hung and toned so the promise of fit and horny butch guys is fulfilled.
I did have a couple of navigation problems. If I clicked the 'Home' button I was sent back out to the tour area and had to re-enter my membership details to get back in. It's better to use the back buttons you will find at the bottom of each set of videos and pics. And I had that issue when left clicking the download link but if you have any technical problems then simply check the members' services page in the public area. If you have any video viewing problems, there you will find links to the Real Player, Quicktime and Windows Media Player free software downloads for both Mac and PC.
Bottom Line:
Here is a solo jerk off site that keeps its promise and sticks firmly to its niche. There are some fifty exclusive videos featuring only muscled and tough working men type studs. There are many solo jack off scenes that are hot and some couples too which are hotter. The videos are well made and edited, easy to download and the whole package is well designed and great to view.
VISIT Hard Working Stiff NOW!
VISIT Hard Working Stiff NOW!