Camera Boys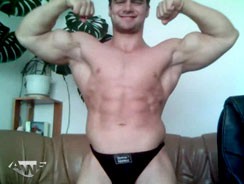 JUB Site Rating:
0 total vote





Camera Boys's Billing & Pricing
Camera Boys's primary billing processor: In House
CameraBoys Credit for $29.99
CameraBoys Credit for $69.99
CameraBoys Credit for $99.99
CameraBoys Credit for $159.99
VISIT Camera Boys NOW!
Take your time to read the first page of CameraBoys and you'll see what's on offer. Basically you have live chat with gay guys or trannies, live sex webcams with guys, couples or groups and then there is a pay per view theater for members only. I was interested to see how far I could go without having to sign up and pay any membership fee so I started my investigation with the gay chat.
A page flashed up really quickly after I'd hit the link and there were 16 guys' pics, their names, their languages and then links to a private show or a free chat. There was a good mix of guys, young ones, Latinos, Orientals, muscled studs, hunks and twinks. After a simple decision and clicking one of the guy's free chat links I came straight to his camera and the chat dialog box. So far I was impressed with the speed and ease at which everything was happening. All the other options you could need where easy to access from this page: you could simply type and send your message, read what other guys were saying and the model's response, you could click over to other performers from their face pics at the bottom of the page or, at the top, go to the model index, check your account balance or buy credits.
When you check the model index you'll get all the performers listed alphabetically and you can simply move from one page to the other to search out someone worth paying to view in the private area. If a performer is off line then there is a link to the archive where you can see some pics from previous shows.
I went back to check out the second section, the Live Sex Webcams and actually found this to work in the same way as the Live Gay Webcams. The only difference here was that there were 32 couples waiting to put on live shows too. These were straight couples and I'm not sure if there are ever gay couples performing but it would be worth finding out.
So how much will this all cost you and is it complicated to buy credits? I went to the 'Buy Credits' page to check this out and there was told that you can buy Cam credits for $1.99 per minute and $0.99 for video on demand. To find the full details I needed to log in and this involved parting with some money so you will have to decide how much you want to spend before you start the process. It made me wonder how much time I would need to persuade one of these sexy twinks to get his cock out and jerk off for me.
So, what are the rest of the stats? Well, when I visited the site I was told that there were 9,226 registered performers, professional and amateurs, male and female. There were 284 on line at that time and I could browse 170,000 photos in the archives. In the video on demand area there were 76 gay titles which included couples in action - again you need to sign up and log in to view the content but you can go to the models' individual pages and see their stats and some video caps from the movie for free.
Bottom Line:
The site has a neat design and I was well impressed buy the way that everything worked quickly and properly. I have no doubt that once inside the site you will get just as good a service, and then you will also be able to see all the hot action. From the look of the outside this is going to be one of the better web cam sites to sign up to as it offers choice, sexy guys of all types and fast working technical wizardry. I trust it.
VISIT Camera Boys NOW!
VISIT Camera Boys NOW!