Muscles In Motion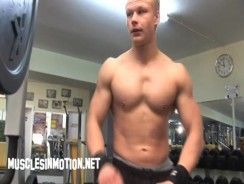 JUB Site Rating:
0 total vote





Updated: 2010-03-31
Primary Categories: Big Muscles
1 Galleries
Currently No Videos
Muscles In Motion's Billing & Pricing
Muscles In Motion's primary billing processor: Paycom
$19.99 for 30 days (recurring)
VISIT Muscles In Motion NOW!
I have to get a couple of things clear from the start here, just so I don't waste your time. Muscles in Motion is a site about bodybuilding, young bodybuilders actually and it is not a porn site. But don't go rushing off - it's still horny and if you have a fetish for guys in tight lycra working out in the gym and getting all sweaty, and posing in pouches and so on well then, you might want to take a look. The other thing to note is that it is also run
(as far as I can tell)
by an amateur webmaster. There are certain issues, for me at least, with the design and the layout/the technicalities and so on but, as long as you accept that it's not a professional set up, you will be o.k.
The videos you can access in the members' area - some of which are featured on the tour - are divided into certain types. You have: work out videos, posing videos, championships, webcam and 'specials'. This last one sounded interesting and there were two in this category. Sergey being 'oil' before the contest was one I clicked. A new window appeared and there was a control bar for some kind of media player and lots of white space, the movie played and there was nothing else on the screen at all so I never did get to see Sergey being 'oil'.
I checked out the help page to discover that us who use Windows and a PC may have problems and we are advised to view the site on a Mac and use Quicktime. Well, I wasn't in the mood to go out and buy a new Mac just for this site so I tried some other vids and had similar problems. Maybe you won't and I hope you don't as there are over 300 videos to view, in theory.
There are also 28 galleries that have stills from some of these movies and that's exactly what they are: small video captures of smooth young guys flexing their muscles and posing and showing off in the gym, at competitions, backstage, in the bathroom - wherever they happen to be when the camera goes off really. I can't say they are the best quality 'cos they aint but at least they are there.
That's kind of my problem with the site: you'd have to be a real fan or a great friend of someone on the site to actually get anything out of it and even then you'd probably take a look and so, 'o.k. that was nice. What's next?' Also, getting around the site is really difficult due to lack of navigation features. Once in a gallery of shots you have to back button your way out. Once back at the images page you have to back track to where you were before as there is no top menu in the members area like there is in the tour. The members' home page consists of a quick bit of text saying thanks for joining and then a list of the five kinds of videos and the pictures. This is presented in English and German so if you read German that's good. But that's it; and it's all set against a background that is garish colours in wide bars and sometimes the text is hard to read because of it.
Bottom Line:
I did say this was an amateur, non-pornographic website and so we allow it its faults. It's still hard to view and best viewed on a Mac in FireFox as far as I can see. For $19.99 a month you'd have to be a real fan to hang around but for a one off look at some cute bodybuilder boys it's almost worth the fee.
VISIT Muscles In Motion NOW!
VISIT Muscles In Motion NOW!