Six Foot Six Guy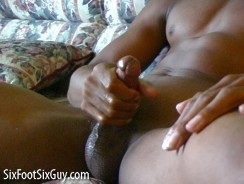 JUB Site Rating:
0 total vote





Six Foot Six Guy's Billing & Pricing
Six Foot Six Guy's primary billing processor: Paycom
$19.95 for 30 days (recurring)
VISIT Six Foot Six Guy NOW!
Meet Evan: he's black, stands six foot six inches high, has big hands, long legs, size 15 feet and you know what they say about guys with big feet... here he is on his personal website that features vids and pics of this sexy, towering hunk and, for reasonable fee, you can join what he calls his Fan Club.
And when you do and you enter the members' area you will find info about Evan, his vids and pics a webcam area and a newsletter page. Let's go through those in more detail. The About Me page is simple, he tells us his stats, his age
(25)
and the fact that he has been working out for two years and continues to do so. The photo album is up next:
There are twenty sets in this area - well there were when I was in, there well may be more by the time you take a look. The quality here varied from 'oh right, screen caps' to 'oh my god! Fantastic!' No honestly. Some of these sets were from the videos and were only 600 450 in size, a bit fuzzy and blurred during the action. But you can overlook that when you see the other sets. Some of these pics of this sexy guy outside among exotic trees and on location at 650 x 1000 in size will blow you away. Not only is he good to look at but the quality of photography is excellent - the kind of thing you would see in a magazine like Vogue - except he is male and naked. Erotic and sensual, well taken beautifully lit... these photos are worth the sign up fee on their own.
The next area is the Video Clips area. And yes, most of these are short clips of around two or three minutes each, but there are some that are six or seven. There were 16 when I was there all featuring Evan of course and all opened in a new window where they took a short while to stream - be patient. Here you have Evan on the beach posing in a pouch, naked at home showing his oiled up muscles and shaved dick, taking a shower and in the one we've all been waiting for, jerking off his cock. It's a grower by the way, it may look 'normal' when he's simply posing but when he's working it seriously it grows and grows until it explodes. Nice. If you have trouble streaming the vids then right click and download them. They are .mov files which will mean Quicktime is necessary but they don't take long to get to you.
The webcam area promises that Evan will be live on line very soon but meanwhile you can link over to a live cam site - pay to use - where you can find more black guys to drool over. The Newsletter page is simply a link to where you can subscribe and the contact page has details about billing and other support. The site is nicely designed and, although small, isn't bad for a personal site. It's easy on the eye and easy to get around, well thought out and does justice to the excellent images on it.
Bottom Line:
So Six Foot Guy is a small site with a big guy as the main star. It would be good to see it grow and perhaps have other big guys in there with the sexy Evan but so far so good and I wish it well. It's a nice site to view with the excellent images and well designed pages and with more content in the same quality range it would get a higher rate. It's one of those fan sites that goes a bit extra and treats you well and it's one to stick with as time goes on and it expands.
VISIT Six Foot Six Guy NOW!
VISIT Six Foot Six Guy NOW!