Jeremy Roddick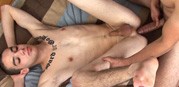 JUB Site Rating:
0 total vote





Jeremy Roddick's Billing & Pricing
Jeremy Roddick's primary billing processor: Ccbill
$9.95 for a week - renews at $29.95 a month, reducing to $23.95 after two months
$29.95 a month recurring, reducing to $23.95 after two months
$34.95 for one month, non-recurring
$64.95 for 90 days non-recurring
VISIT Jeremy Roddick NOW!
So, do you think Roddick is his real name or one that's made up of rod and dick? It doesn't really matter; he does have a dick like a rod but he also has a lot more about him than that. Porn star and now porn producer, Jeremy has been setting our web pages alight for a while now and he simply gets better and better.
Sign up for his hot site and you'll find only exclusive episodes, around 40 so far with more coming on a regular basis. But if that's not enough for you then why not apply to be a model. You'll need to be sexy, cute, smooth, hard, bottom, top, good looking and up for anything - or any combination of those things, but if you've got what Jeremy thinks it takes you could well be appearing on these quality, well put together pages.
Your members' area here is fairly simple, which makes you concentrate on the content rather than the extras and gizmos. You've get four pages of thumbs showing you ten pics per page you've got two choices of player to suit PC and Mac users, and you have two choices of quality, plus a file to put on to your iPod. When you click a scene you get a short description and then your viewing options neatly laid out on one side of the page. Stream or download, it's up to you. I streamed a scene in WMV and found an embedded player at 1.55Mbps @ 640 x 360. This did take a moment or two to start running, your connection speed may be an issue, but once it did I found a well planed and well executed scene. There was a start, with two guys meeting up and some general outdoor filming, then we moved inside for the hot stuff. Which, in this case, was two younger twinks sucking and jerking their way to some very satisfying cum shots.
Jeremy appears in several of his own movies, making me wonder who is behind the camera on these occasions, but the quality of filming never fails to please so it doesn't really matter. You'll find good camerawork bringing you close to the stars, good sound and lighting and high quality productions all round.
But you could say that about many sites, so what is it about Jeremy Roddick that makes him stand out?
(Apart from his looks, body and cock of course.)
I reckon it is the amateur nature of the boys. This doesn't mean they are not good looking, they are; he manages to find great lookers for his exclusives, but they are not porn stars - yet. There's no attitude or silly posing, even in the posed studio shots that sometimes start off the galleries. The guys come across as simply natural and having fun, which makes the movies even more enjoyable.
Talking of galleries, there are good collections of shots here with some posed ones, portraits and body shots, and then loads of hosts taken during the filming, where again the eye is on quality with good size images opening in Flash.
Check Jeremy's blog - it's the only other content link in your menu - and you will notice that Jeremy has been nominated for a Cyber Socket award, Best porn actor. I for one will be voting for him and hoping he wins.
Bottom Line:
When porn actors get behind a camera or a site they know what they are doing, usually. Jeremy certainly does. His site isn't bulging at the seams with content but it is bursting with quality. Both of productions and of models. Real amateur guys like you and me - well, more like you probably - appear in well made and exclusive movies and galleries that are easy to access and hot to view. Standard sex maybe, but featuring better than average looking jocks and younger guys.
VISIT Jeremy Roddick NOW!
VISIT Jeremy Roddick NOW!