Deans Boys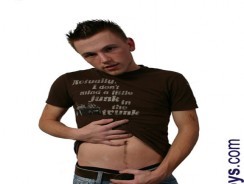 JUB Site Rating:
0 total vote





Deans Boys's Billing & Pricing
Deans Boys's primary billing processor: Ccbill
$24.95 - 30 days - Recurring
$34.95 - 30 days - Recurring
$49.95 - 90 days - Recurring At $19.99 every 30 days
VISIT Deans Boys NOW!
I was waiting for the day when I could get to tell you about Deans Boys. I've heard a lot about Dean Berkley and the excellent porn that he not only makes but also appears in and now's my chance to get a good look at it and see if the rumors about him are true.
In the members' area there were 15 exclusive videos and five image galleries, also exclusive. Don't worry about the numbers, the site is new but it's hit the ground running and is set to get bigger and, if possible, better as the days go by. I only had the option to stream the vids so I can't give you too many technical details but I can say that the buffering and streaming didn't take too long, the image was very clear and so was the sound, leading me to suspect that these are high definition, big files.
Dean makes an appearance in three of the movies and some of the other sexy young things, like Kanyon Michaels, appear in more than one. You have a good mix of solo shows and duos with plenty of well hung, toned and smooth guys on show. Tyler Martin is the kind of guy we like to see shoot a load and Brycen Cruz and Jeffrey Cole by the pool was a really erotic thing to view. The movies come with a short written introduction from Dean, then you click on the image and come to a page of three scenes, simply click again for the stream page to open and the movie to start. It's a simple set up, nothing misleading or unnecessary - which is refreshing.
And when you've done viewing the videos and galleries you can click along the top menu to se what else is on offer. Dean's blog is the next thing along the list and here you have a personal page written by, and about Dean. The bog started in March 2007, when the site started, and the most recent post was two days prior to my visiting the site, so it's up to date. There are the occasional photos included as well and the friendly and chatty text which tells you what's going on with the site, what's coming next and what cute-boy Dean is up to generally.
He's also gone out of his way to provide us with bonus goodies too: There were eight feed sites listed on the bonus page. You don't have to pay for these you just click one and slip smoothly into it; once inside you can stream the movies that feed has on offer. There were Twink sites, First Timers, big cocks, muscles and black guys featured in this neat little collection. There are loads of video clips on the sites and hours of viewing to be had; my only problem with the set up here was that I had to back button my way out from the feeds as they opened in the same window. If you've been deep into one of the sites it could take a while to get home again.
Clicking on the Live Cam link brought me to a page from where I could open a small window with a view from a web cam. There weren't any instructions apart from the launch button so I guess you have to take pot luck as to when Dean is going to be at the other end. If you're not sure though there is a direct link to his email on the homepage so you can always ask.
Bottom Line:
I really do get the feeling that this site is personal and friendly. Dean's quite honest about the fact that he does everything himself and that's great. The boys are hot, the videos are well made and the site is fun to use. Stick with it as more content is coming and when you are a member you'll feel like one of the family.
VISIT Deans Boys NOW!
VISIT Deans Boys NOW!