Studio 2000 Video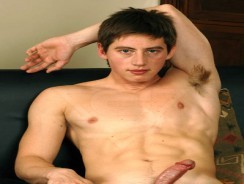 JUB Site Rating:
0 total vote





Studio 2000 Video's Billing & Pricing
Studio 2000 Video's primary billing processor: In House
Premium Membership - $29.95 (regularly $49.95!)
$29.95 a month for as long as you remain a member.
Basic Membership - $19.95 (regularly $29.95!)
3-Day Trial Membership - Rebills automatically at $19.95 a month.
VISIT Studio 2000 Video NOW!
Maybe I should title this review 'The all new Studio 2000 Video' as the site has recently gone through some changes - for the better I may add. They've basically put the site together so that they can provide you with new content every single day; they have also added some extra features including exclusive videos from a new studio named Boyfriend Material and never before seen audition videos. This content, they promise, won't be found anywhere else on the web.
And what exactly is that content? Well, the neat home page in the members' area starts you off with 'today's update' so you don't miss the hot new scene every single day and, just so you know what you're in for, there's tomorrow's update and the previous six days' worth shown in thumbnails and titles too. Atop the main menu there's a link directly to the store where you can buy hard copies of the DVDs you're about to see scenes from. But check out the sign up deal first 'cos if you go into the site as a Platinum member you will get the latest DVD shipped to your door every month. Think about that for a moment, your membership fee not only gets you access to the site but gives you a DVD (valued at more than what you are paying) each month that you are a member.
Pick yourself up off the floor and carry on browsing the site... Checking out the 'Movie Scenes' area I found 36 titles to choose from. Clicking one, 'Down on the farm' I came to a page where each scene from the movie was available, illustrated by a decent sized image. There is also a description and links to any existing galleries, plus direct links to each performer's own page where all his appearances are listed. Simply click the scene you want and your Media Player appears, the (protected so enter your details) scene starts to stream and there you have a superbly made, top quality, 25 minute long scene from the movie streaming at 320 x 240 @ 539 kbps but also perfect at full size too. And you can jump forward and backwards through the scene to find the part you want.
By the looks of the covers of those DVDs the guys are mainly strapping, hunky, smooth, young, hung, you know the sort, the sort we like. Over in the Auditions area there were 21 young and sexy guys being put through their paces. These movies streamed at the same size as the others had but at 289 kbps, so the quality wasn't as good, but then it's only the audition footage. Only! These were great solo jerk off scenes and some ran for around 15 to 20 minutes. And as for the newly acquired studio, 'Boyfriend Material' there are seven guys there to view, so far. Again they were quick to stream and reasonable quality solo scenes featuring some very sexy, smooth and hung fresh talent. I can't wait to see these guys in some action scenes in the DVDs.
If you want to now more about these totally sexy and desirable hunks then check out the models index where you'll find them all listed. They come with pics and stats and a short introduction. There are also links direct to their video and gallery appearances so once you've found the man of your wet dreams you can tune in to all of his performances. The galleries, by the way, run on Flash and are neatly laid out with images clicking up to 700 x 1000 in size. The screen shots you can also access in the Movie Images area are smaller at 450 x 600 but you can save as many images as you want.
Bottom Line:
You want my advice? Go for the Platinum membership and get your free, top quality DVD every month. Apart from being an excellent offer you are guaranteed an excellent movie; and you'll be able to catch up on the daily updates as the site grows and grows. And you'll be able to access some of the hottest guys I've seen in a long time. Don't just sit there...
VISIT Studio 2000 Video NOW!
VISIT Studio 2000 Video NOW!