Older 4 Me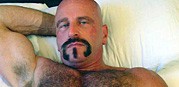 JUB Site Rating:
0 total vote





Older 4 Me's Billing & Pricing
Older 4 Me's primary billing processor: Ccbill
$23.95 for 30 days then $21.95 recurring every 30 days
$59.95 for 90 days (non-recurring)
$99.00 for 180 days (non-recurring)
VISIT Older 4 Me NOW!
Nothing beats experience they say and nothing beats Older 4 Me when it comes to viewing experienced, older gentlemen in hard-core gay sex. Notice I say 'gentlemen' and not 'guys' for a change. These men are silver haired and over sixty but that doesn't mean they are past it - why, some say that sex begins at sixty and why not? Put away your twinks for a while and check out some mature daddies and granddads as we take a peek at something more mature.
Now then, it may take you a while to figure out how the site works. There is a top menu and here you will find links to the Video Channels, click that and you'll see that everything is arranged by years, which seems appropriate somehow. Click a year and then you're asked to log in - the tour is basically what you get inside only more limited. Logged in? O.k. now you will see the videos arranged by year and the viewing options in the centre of the page. There is a range of viewing speeds from dial up 33 kbps to a larger bandwidth 450. The videos stream in pretty quickly so there's no hanging around and the quality is fine (I was on 250 kbps and it was perfectly watchable).
There were nine movies in 2007, so far, and in 2006 I found 20, that's almost two a month. They were a good mix of solos, couples and larger scenes and had interesting titles such as 'Daddy on son', 'Daddy's home' and 'Naughty school principal'. There were some stunning older guys in here, beefy and hairy dads with massive cocks, grey haired old guys with enviable boners and some younger (in their forties) hunks performing with older guys. It's simply perfect for anyone who is into older guys. The movies run for a good length, they are well filmed and I can honestly say this is some of the best older guy content I've seen. Some sites advertise 'older men' and what you find are guys in their thirties and forties. The men at Older 4 Me really are older, 50, 60 even 70 year old chaps get their cocks out and their asses filled and it's all nicely presented for you to view at your leisure.
That's just the video area. You also have other places to explore once you're inside. Like a model index where you can select guys from their face pics. Again arranged by year, this index will give you the model's stats, links to galleries and even his e-mail if he has one. There are galleries too but I wasn't so sure about some of these. They were a varied collection with plenty of daddies in them but the images appeared to have come from other sites and were also members' submissions. The quality wasn't great and the images were a little on the small side because of this. Unlike the videos though, you could download them. There was also a classifieds area where guys were advertising for companions, sex and other things and this is a good addition to a specialist site in my opinion as it brings people together.
Bottom Line:
Older 4 Me sticks out in my mind as being one of a very few sites that specialises in the older male. The older and 'normal' male I mean, as opposed to hunks and porn stars who are simply getting on a bit. If you're wanting to find a dad, if you are a dad looking for a younger cub then you should come on in. Apart from the hook up area you also get great videos of old guys sucking and fucking and if nothing else you'll come away thinking, 'there is hope for me yet'!
VISIT Older 4 Me NOW!
VISIT Older 4 Me NOW!