Adam Male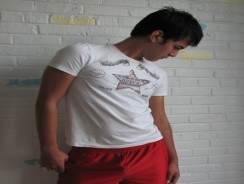 JUB Site Rating:
0 total vote





Adam Male's Billing & Pricing
Adam Male's primary billing processor: In House
This site sells DVD and VHS tapes delivered right to your home. Prices vary.
VISIT Adam Male NOW!
The home page of Adam Male reminded me of one of those super-stores with titles like 'Save-Quik' or 'Price-Slasher' for some reason. I think it was the colours, blue and yellow across the top with snowflakes and multi-coloured writing. But although it might strike you as a cheaply run, pile 'em high - sell 'em low kind of store, on further investigation you will find it's far more classy than that.
It's certainly packed: a quick look at the new gay DVDs brought up 173 titles and there were 536 in the general gay DVD list. There were fifteen studios listed including some well known ones like Raging Stallion, Global Media and Studio 2000. You also have lists of stars, formats and directors (Chi Chi LaRue and Chris Ward have the most entries) and you can further narrow your search by price and format. So all in all it has a good search set up making it easy for you to find what you're looking for.
And once you have found a DVD that takes your fancy what then? As a general rule you'll see a title cover first, as a medium sized thumbnail with the title and price below - so you're likely to be attracted by the models or the discounts if you are having a general browse. The cover image becomes bigger when you click it and beside it you will see other information which will help you make up your mind. You are told of any discounts available, the run time, the cast and director and there is also a basic description of the action. You also have the chance to write a review of the movie once you've bought and viewed it and to read what other punters have had to say about it. The only thing I couldn't find was what region the DVD was formatted in, so if you're buying from outside the USA you best beware: you don't want to unwrap your long awaited purchase only to find your machine won't play it.
What was good about the set up at Adam Male though was that you could view images from the movies before you buy. Most titles come with soft-core sample images and many have explicit images available. To see these you will have to create an account and log in; this is free to do and only takes a few minutes though so don't be put off.
Aside from the porn DVDs there are other areas of the site where you can go shopping. From gay sex toys to clothing you'll be able to order everything at one visit and the more you spend the more discounts and offers you can claim. For example: Order an item of clothing and spend over $29.00 and you get a free gift.
Bottom line:
The good things about this site, to my mind, apart from the wide selection of multi-genre DVDs, are that it donates 25% of its profits to charities and has a good search facility. The prices are reasonable with many discounts and offers and there is a good selection of gay-orientated merchandise. The strange thing is that you can pay by PayPal (I didn't know they were now allowing 'adult') as well as by the standard means. The only things I had a little trouble with were the time it took some pages to appear and at one point I got stuck in 'lubes' and couldn't get back to DVDs. But over all it's a site that has all the features we've come to expect from on-line stores with the standard selection of gay porn, toys and extras, order tracking and help pages.
VISIT Adam Male NOW!
VISIT Adam Male NOW!